There has been a lot of hype for the headband wigs recently. A good hairstyle is a critical part of the outfit, and you may sometimes want to try different haircuts as well so that it goes well with your outfit.  The 70's trend is back, and the hair accessory that was being used in 1970 is again trending with a modern update.
If you ever search for "popular wigs" on the internet, your search results will explode with images of headband wigs.  They are a kind of unit that has a cloth-like material at the hairline, and this cloth is made in the form of a headband with hair strands at the back to mimic that you are wearing a headband in the front your head.
The headband wig is a kind of wig that is made to look like you are wearing a headband. Wearing this wig is also very easy, and you can easily slide it into your hair to put it in place. The best part about wearing this wig is that you will not require any clip or fastener to place it in your hair.
Just like the standard wigs, headband wigs are also available in many different styles, and you can choose one according to your preferences. However, the primary difference between different kinds of headbands includes the number of combs it has to insert the wig in your hair. Other differences include the quality of the headband, its softness, and also the capability of the headband to get detached. Make sure to consider all these factors before finalizing any option.
Let us have a look at the different types of headband wigs available:
Brazilian Remy Body Wave Human Hair Wig:
If you have been looking for a nice full-bodied hair wig, the Brazilian Remy is the right fit for you. You will look like a glam goddess with a wig. The best part is that it is available in different inch sizes, ranging in between 12-28 inches. It is a newly designed long body wave-styled headband. It is styled keeping the latest trends in mind. The wig is easy to install and beginner-friendly. If you have been looking for a lustrous and silky wig for your hair, this is exactly what you need. It is one of the most suitable choices, and you will not go wrong with it.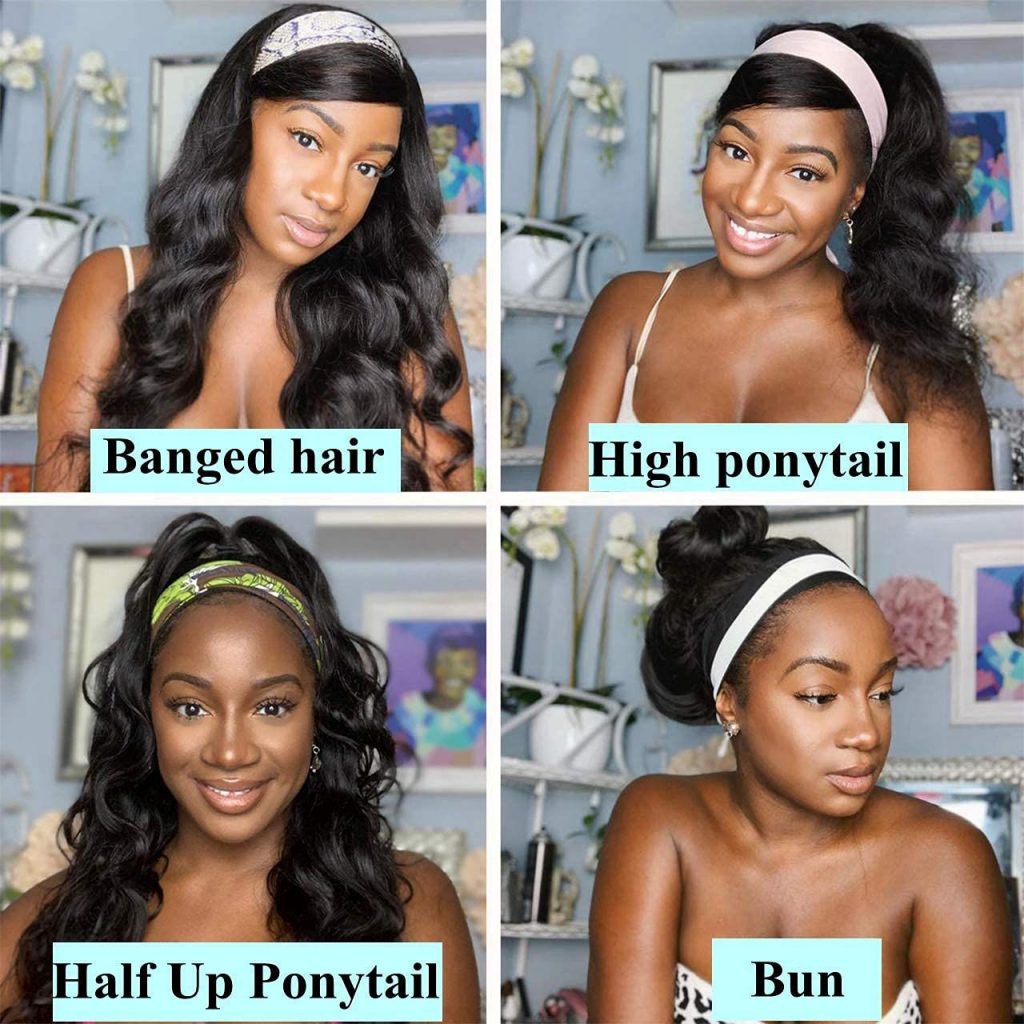 Hair Coily Headband Wig From Her Given:
This option is available in a curly texture and is preferred by many. The manufacturers of this wig offer a few amazing and different textured headbands that combine a beautiful hand made turban along with the wig and the combination gives you a chic look almost instantly.
If you are a firm follower of the wash your hair and go out mantra, and it requires a considerable amount of time, then keeping this option at your disposal is one of the best decisions that will come in handy every time you need to go out.
My First Wig Leo – Human Hair from the Zodiac Collection:
It has human hair and has a curly texture. It is available in ombre color. Ombre is currently in trend, and people are getting their original hair-colored ombre.
No doubt, this Leo-themed wig will always be the conversation starter. You will always get compliments when you wear this wig and go out.
RPGShow Brown Headband Wig:
It has a headband at the hairline and has brown highlights in the hair strands. This wig has yaki-textured hair that looks great. It has a pink headband that looks great and is one of the easiest ways to get trendy highlights done on a budget.
Recifeya Hair Headband Wig:
During the pandemic, people are not spending much time outdoors. It means, this year, you are not planning to spend much time at the beach or the poolside. However, you can experience a similar feeling with this wig.
This option stays in the best condition when kept moisturized. We recommend you keep a spray bottle filled with water in your bag to keep your locks defined and moisturized.
Clione Kinky Headband Wig:
It has curly textured hair attached to the headband. It has different designs of headbands attached for you to choose one according to your preferences. This wig has lustrous hair and has incredible volume. The best part is that it has no smell and you can dye it in a color of your choice.
This headband wig has affordable synthetic and kinky curls. Because of the textures and color this wig has, people prefer buying it. If you are looking for statement wigs, this is just the right choice for you.
The above-mentioned choices have long hair which may not be manageable for many. With this option, you will not have to buy the longer counterparts. The ringlets of this option are more manageable and can be easily worn. The Ali Pearl wig has a curly hair texture, and this particular wig comes with three different headbands. Along with the different types of headbands, you will also get a scarf so that you can easily switch hairstyles as and when required.
This headband wig has curly hair attached to it that is great in texture and has a good volume. It is an affordable headband wig that has headbands attached. There are several different types of headband prints available in this option, and you will have endless possibilities available with this choice.
Kinky Straight Headband Wig From Luvme:
If you own type four hair, these wigs are what you need to add to your looks. The best part about this headband wig is that they are versatile in nature. The best part is that this option mimics straightened hair perfectly well.
Conclusion
Headband wigs are an easy-to-wear option that doesn't require much maintenance, and you are only required to braid your hair down or slick it back. Moreover, headband wigs look more natural as compared to lace wigs.