Afro Caribbean hair can be difficult to manage, so we often end up resorting to harsh chemicals and heat treatments in order to tame our wild locks. But is there a better way? A way that doesn't cause our beautiful black hair to break and become damaged and tired looking?
Best Products for Thickening African-Carribean Black Hair
After many years of trying out products, discussing the problem with my friends and researching, I found Shea Moisture's Strengthen and Restore set.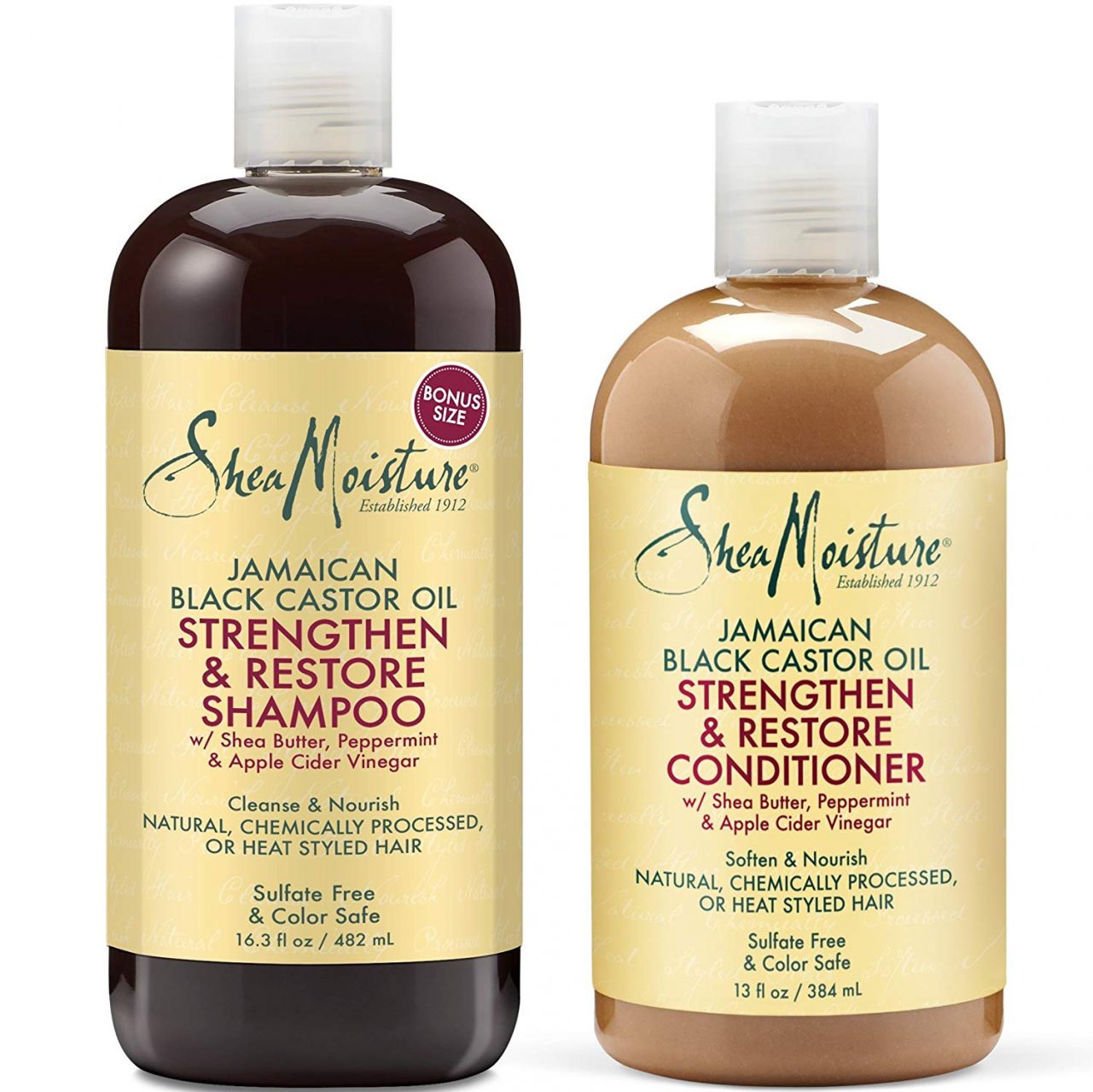 A combination of shampoo and conditioner, these two bottles contain growth-promoting peppermint essential oil, apple cider vinegar, and Jamaican black castor oil to enrich and rejuvenate tired follicles and hair shafts. Together with moisturizing shea butter, these key ingredients encourage your scalp to wake up, your hair follicles to produce thicker and healthier growth, and the hair itself to become soft, bouncy and beautifully hydrated.
All this means that not only will your hair be infinitely more manageable, but it'll be easily able to withstand the rigors of daily life, gain elasticity, and look awesomely shiny.
---
Continuing the all-things-healthy trend, here's another awesome castor oil product – Hair Thickness Maximizer Jamaican Black Castor Oil.
Pure castor oil has been used for centuries to promote hair growth and massaged into your scalp and along the hair shafts twice a week, it makes a visible difference in the quantity and quality of your hair. Once applied, cover your head with a plastic cap and from a distance, use a hairdryer to gently warm up the oil and the hair shafts for about thirty minutes, before washing as normal. This allows the oil to penetrate, increasing the hydration and condition.
---
What to Avoid for Thicker Black Hair
There are a number of other things you can do to effectively encourage thicker, fuller hair growth.
First, some things to avoid:
Avoid washing your hair too often as this can strip the natural oils and leave your hair dry and brittle.
And don't use a hairdryer for similar reasons
Try not to towel dry vigorously – be gentle
Don't over braid or wear in a tight style
Avoid neglecting the health of your scalp – this is key to having productive follicles
---
Tips for Thicker African-Caribbean Black Hair
Now, for some proactive things you can do to boost thicker hair growth.
It sounds counterproductive, but have your hair trimmed every two months or so. This removes any split ends before they have the opportunity to split the shaft any higher.
Use oil treatments at least once a week
Eat a nutritionally balanced diet, including plenty of dark green vegetables, eggs, and protein. What you put into your body, shows on the outside very quickly, so if your diet is healthy, your hair and scalp will be, too.
Drink plenty of water for hydration and to flush out toxins
Make sure your nails are snag-free as rough nails can catch hair shafts, causing them to break.
 If you have to detangle, work gently and carefully with your fingers from root to tip
---
I use these hacks myself. They really do make a difference and are so simple to add to your hair care regimen. Let me know how you get on.
---
If you enjoyed this page and would like to read some of my other blogs, then consider having a look at these other pages too!