Thick African-Caribbean Hair
Many Afro Caribbeans are blessed with lustrously thick, glossy hair, but others, including myself, struggle to achieve that. Thicker hair looks, and generally is, healthier, has more styling options, and just seems to have more fun!
Everyone is different and it may be down to genetics that my hair isn't as thick, or as fast-growing as I'd like. However, even if genetics does play a part, there's still plenty I can do to encourage thicker hair growth, so I thought I'd ask around to see what other people do to thicken up their natural black hair and try out some treatments for myself.
Natural Hair Thickening for Black Hair
Eggs
Eggs are fantastic for encouraging thicker hair growth, either on their own or mixed into a treatment. The most simple, but effective method is to beat two eggs and apply this to your hair, covering every strand. Leave it on for ten minutes, wash and shampoo as normal. Quick and easy, I try and do this a couple of times a week, and it does seem to be working.
But my favorite egg treatment uses jojoba oil. Rich in vitamin E, Omega 6 and 9, jojoba is great at unclogging hair follicles and stimulating growth. Mix one teaspoon of jojoba oil into a beaten egg. Add a teaspoon of honey, and a few drops of lemon juice and mix thoroughly. Massage this into your scalp, and through your hair, then wait for half an hour before rinsing and shampooing.
Essential Oils
Essential oils are renowned for their beneficial properties, and Lavender and Rosemary are two oils that are particularly good at promoting thicker hair growth. Both contain anti-inflammatory agents that boost follicle production, strengthen roots, and therefore encourage hair growth. The act of massaging them into your scalp increases blood flow which also accelerates healthy growth.
Take 2 teaspoons of olive oil, heat gently and mash in half an avocado. Add in a little honey, a beaten egg, and then 10 drops each of lavender and rosemary essential oils before whisking thoroughly. Massage this mixture into your scalp and hair and wrap your hair in a warm towel for about half an hour, then wash and style as normal. I started to use this once a week and within a few treatments noticed my hair growth was becoming much thicker. My friends, who also added this to their weekly regimen, reported the same.
Coconut Oil
Oils and hot oil treatments should be an essential part of your natural hair care regimen, and this method is really simple, working well to increase hair thickness.
Warm-up some coconut oil and massage it through your scalp and hair. Wrap your head in a warm towel and wait for 15 – 20 minutes, or overnight if possible, then wash it off. I like this for its speed and simplicity and try to include it in my hair routine two to three times a week.
If you prefer, olive, castor, avocado flaxseed oils can all be used as effective alternatives for the coconut. You can also add them to your bottle of conditioner, giving your hair a double whammy.
Nutrition
You can increase your hair growth from the inside, too, by making sure you eat a healthy, nutritionally balanced diet. Include plenty of dark green leafy veg, protein and fruit, with oily fish, such as salmon or mackerel, eaten at least once a week. It's also important to keep hydrated, so drink plenty of water.
Including a dietary supplement can ensure your vitamin and mineral balance is maintained, both for a healthy body, but also for increased hair growth and condition.
Best Product for Thickening Natural Black Hair
Another product that I've found indispensable is PURA D'OR Gold Label Shampoo & Conditioner.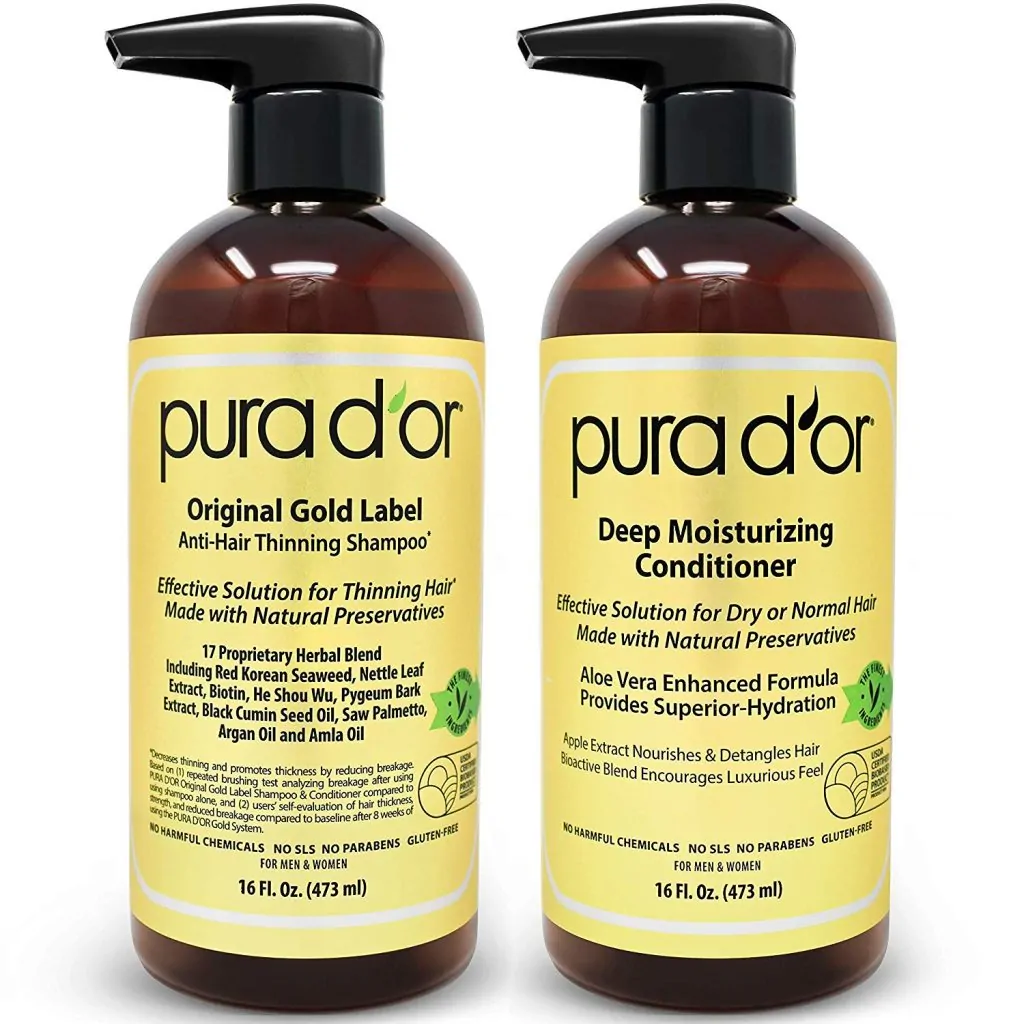 Whilst I've been looking into and trying out home treatments for thickening your natural black hair, this has been recommended time and time again, so I had to give it a go. Not only does it smell luscious, but it feels thick and rich. Packed with natural ingredients to encourage stronger hair, it's even made my hair appear thicker and healthier, whilst the actual growth has had time to catch up. Containing argan oil, biotin, and nettle extract, for me, and many others, this is a keeper.
---
If you enjoyed this page and would like to read some of our other blogs, then consider having a look at these other pages too!