If you're anything like me, there's nothing as relaxing as a scalp massage, and with our thick, black hair, in order to keep it healthy, we often have to massage oils into our scalp and roots.
Stimulating blood flow, a massage can really boost hair growth by allowing the blood to carry more nutrients and oxygen to the hair follicles. The follicles react by increasing productivity, and in fact, it's one of the most effective and recommended treatments for hair loss. It can also increase the production of sebum. This is the natural oil that is released from hair follicles in order to keep both hair and scalp moisturized and healthy.
However, done incorrectly, a scalp massage can do more harm than good.
---
How to Massage Your Scalp
There are several beneficial massage techniques that can be incorporated into a scalp massage, increasing its effectiveness, and eliminating any risks of damage to your hair and scalp.
Effleurage Massage
This technique involves the hands and fingertips to apply pressure to the scalp, and is great for increasing blood flow to the area.
Petrissage Massage
This is my personal favorite and it really seems to encourage healthy, rapidly growing hair. Similar to effleurage but a little more vigorous, although still gentle, it uses kneading, rolling and light pinching actions across your scalp. It's also a natural stress reliever and works well on headaches.
Tapotement Massage
Using gentle stroking motions over your scalp and the roots of your hair, this, whilst not as effective in terms of reversing hair loss as petrissage, is simple and subtle enough to carry out in the office. Not only does it increase blood, and consequently nutrient, flow to the scalp, but it's instantly stress and anxiety reducing.
Scalp massages can be done with or without oils or conditioners depending on your regimen, and at least ten minutes once a day is a good guideline. Using tools specifically designed for scalp massages minimizes any risk of hair breaking, which can occur if you regularly use your hands alone. Be careful, though, not to use your nails – yes, I know it feels amazing, but it causes abrasions and hair damage.
You can stick to one technique or mix several together, but the best area to start your massage is on either side of your head, working around your ears in a circular motion.  Slowly move up to the scalp, still moving in circles while you work on the top of your head, before travelling gradually towards the front of your hairline. Continue across your whole hairline and around the edges and towards the back of your head.
Because I've worked so hard to grow my hair and keep it healthy, I use a specialist tool for my daily scalp massages thus avoiding any potential damage – plus it removes the temptation to use my nails!
---
Best Scalp Massager for Black Hair and Scalp
This Scalp Massager from Heeta  is my go-to massager.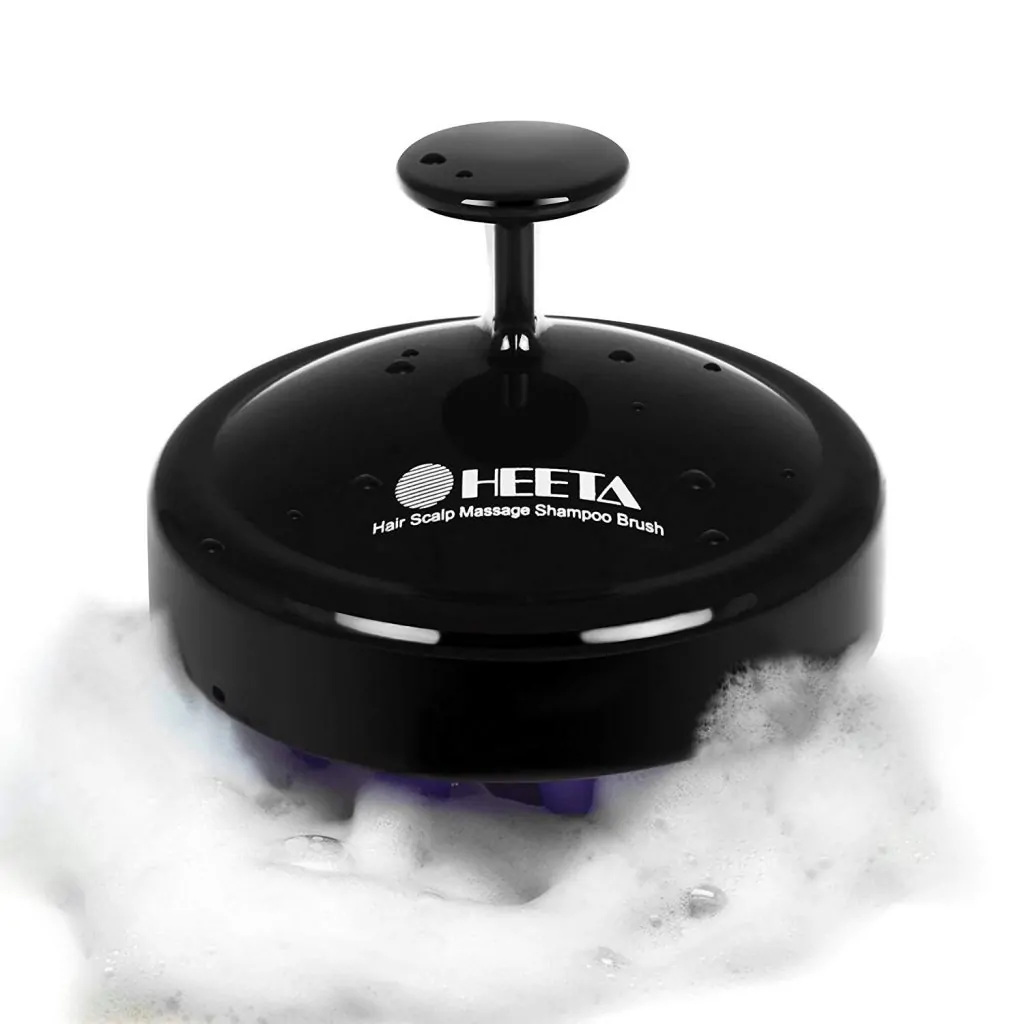 Soft and gentle for my roots and scalp, but tough enough to stimulate growth and keep my scalp healthy. It's not adversely affected by oils or conditioners and I just rinse it off after use. Ergonomically designed, it's comfortable to hold, doesn't slip when covered in products, and I can pop it into my bag for a quick at-work massage!
---
If you enjoyed this page and would like to read some of our other blogs, then consider having a look at these other pages too!