Is the Hype True? The Lowdown on Karkar Oil!
What is karkar oil?
I'm sure you're all aware of the hype surrounding Karkar oil? That it's the miracle ingredient for growing gorgeously sleek, shining with health black hair? Well, believe it, baby!
Originating in the Sudanese area, this wonder hair product is made from a mix of sesame seed oil and beeswax that's melted together to form a rich, nutritiously thick oil. Rich in linoleic acid, it's also an easily absorbed source of vitamins E and K, both essential for strong hair growth. Other key components include copper, manganese, magnesium, iron and zinc. Sudanese women, known globally for their gloriously glossy skin and hair, use karkar oil not only as a hair treatment, but a body moisturizer, too.
What is Karkar Oil Good For?
Karkar oil is an amazing for hair growth, and an excellent treatment for:
To increase the benefits gained from karkar oil still further, it's often mixed with chebe powder. This is the thing for hair growth and improving density, and is derived from the Lavender Croton shrub that grows throughout Africa. It has several other benefits for black hair including the ability to increase, and retain, the moisture content in your hair. Although recommended for 4C hair, it works equally well, I've found, with 3A – 4B hair types.
How to Use Karkar Oil on Your Hair
In a glass bowl, mix approximately 3 tablespoons of chebe powder and 6 tablespoons of karkar oil. This amount is for shoulder length hair, so adjust these amounts accordingly. Mix well and you should have a soup-like consistency.
Then wash, condition and detangle your hair.
Separate it into braid sized sections.
Use the mixture to coat every strand evenly from root to tip.
Braid each section, and if possible leave your hair alone for several days. This allows the nutrients to penetrate the scalp, follicle and hair shaft.
Wash and condition your hair as normal at the end of this period and repeat the process.
---
Best Karkar Oil
However, to save time and effort – I'm all for an easy life, I use Uhuru Naturals Chebe Karkar Oil.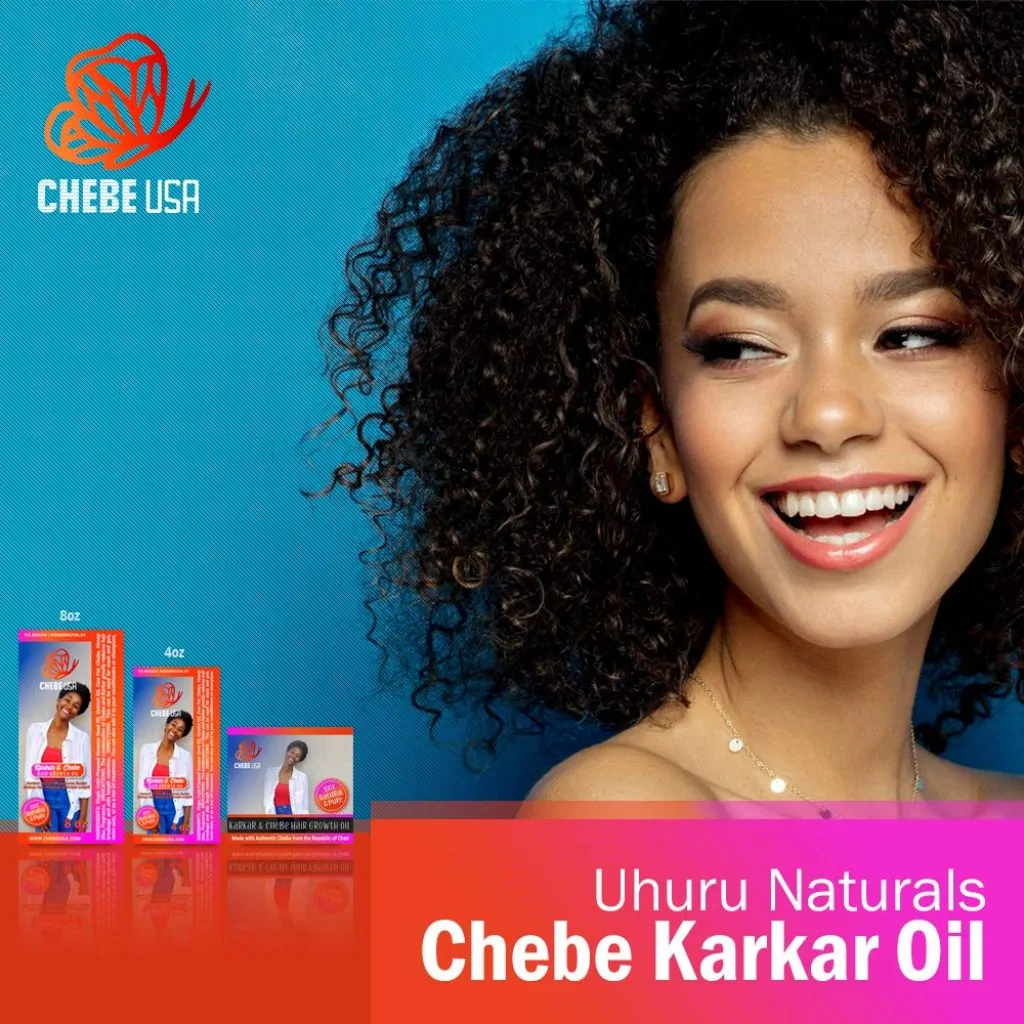 This straight-from-the-jar oil is a rich and unctuous paste that slides on easily, leaving an invisible residue, ready to braid. However, it's also designed for apply-and-wash-out regimens, or as a hot oil treatment. With perfumed oils added for scent, my hair smells sublime, and still does when I take my braids out a few days later. After using this for a month or so, I definitely noticed an increased growth rate, and better condition, not only that, but others noticed too!
---
If you enjoyed this page and would like to find out about other natural hair care products, then have a look at these other pages too!