For many years the cosmetic industry has focused on makeup for white skin, but, thankfully, times are changing and the black sisterhood is finding more products dedicated to our wide range of skin tones, enabling us to enhance our natural beauty – you go, girl!
Black skin is made up of multiple tones throughout one face and its light-reflective properties make it the ideal canvas to produce a flawless, glowing blend of those tones. As a result, the natural look is timelessly popular, with many celebs preferring it to the more obvious made up appearance. Back stage, cosmetic stylists, such as Katy Perry's make up artist Michael Anthony, and Alex Babsky, the creator of Zazie Beetz's famous natural look, wield brushes to produce flawless complexions. You can recreate this look by following a few simple rules.
Foundation
Having a decent foundation is the start of your transformation. The trick here is to pick two shades – one for the outside perimeter of your face, and the other for the rest. Generally, the perimeter skin tone tends to match your neck, while the rest should correspond to your T-zone.
There are many brands that cater specifically to our skin tones – MAC Cosmetics feature pretty highly on my go-to list for makeup, and they seem to have a wide range of tonal options.
Make sure your skin is moisturized, but not greasy, before applying. A great, easily absorbed moisturizer is coconut oil. A tiny amount rubbed in, using circular motions, twice a twice a day will give you beautifully supple skin.
With a clean sponge or dry brush, start applying the perimeter tone around the outside of your face. Make sure you don't start too close to your hairline – about half an inch out is fine as this leaves you room to blend.
Next, apply the other tone across the remainder of your face, and using a sponge, carefully blend where the two tones meet, remembering to take the blended foundation up to your hairline.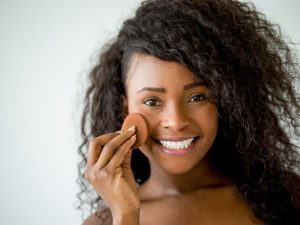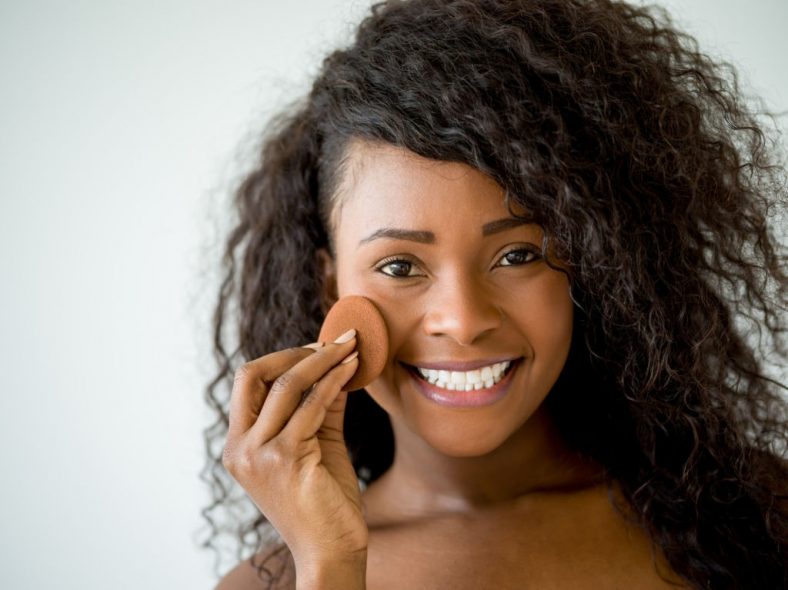 Powder
A warm glowing finish is far more natural-looking than a matte complexion, so think carefully about your choice of powders. I like the effect of a color-corrective powder, especially if you can find one that's translucent, or has a hint of peach.
Concealer
If you're lucky enough not to need a concealer, great, but if you're like the rest of us, you have a few uneven patches. Because uneven tones show up as purple-ish, a beige or green-toned concealer won't work, but an orange one is ideal.
Apply sparingly wherever your skin appears uneven, usually across your cheeks or under your eyes, and blend it in well.
Blusher
Blush is another item that can be tricky to know the right color, but over the years, I've found a coral color looks really good, providing me with the healthy glow I'm after. Depending on how dark your skin is, a bright peach can have the same effect.
As you apply the blush, smile, and brush it on the apples of your cheeks, blending it up towards your temples. Don't get too close to your nose, as this will look unnatural.
Mascara and lip balm
Finally, brush on a little black mascara, and some tinted lip balm – raspberry tones seem to work best with our skin tones.
Be Daring
There's nothing to stop you going all out with your cosmetics – and having a smooth glowing complexion coupled with stunning eye makeup looks great. Try golds, orange, fuchsia, or copper in bold, daring sweeps across your eyelids for a night out dancing. Add in a complementary lip color and wow – the impact will be awesome!
For some more great makeup tips, watch this video: