What is Shea Butter?
Shea Butter is extracted from the nuts of the shea tree which is native to West Africa. The butter is created as a result of a slow process of crushing and roasting shea nuts into butter. It needs to be cooled down for the fats to harden resulting in its raw off-white color, yellowish when some medicinal roots are added, and purely white if it's refined and processed.
What is Shea Butter Made Of?
Organic raw shea butter is rich in Vitamins A, E, F, antioxidants and essential fatty acids. These are the same ingredients that are used in other beauty products for skin and hair, such as coconut oil, therefore making it the staple of every beauty elixir.
How is Shea Butter Used?
Shea butter: The beauty superfood
Household: Yes lovelies, shea butter is edible. Apparently, most African households use virgin shea butter when cooking. Given that it's rich in vitamins, it's a great substitute for butter and cooking oils. Melted shea butter gives dishes a richer flavor while infusing nutritional values into it.
Moisturizing: Shea butter is very thick and solid at room temperature but has a buttery rich consistency that makes it ideal for use as a natural eye cream, lip balm, or body butter. It is usually applied topically and is absorbed by the skin easily so it feels very light and smooth.
Anti-aging: Aside from hydrating, it helps detoxify the body while also boosting our body's collagen production which makes us look and feel youthful (read: blooming, naturally!)
Medicinal: With its superb moisturizing abilities that soften the skin, African shea butter also has anti-aging and anti-inflammatory properties. It is usually used to lighten or prevent stretch marks, soothe rashes and burns, treat skin diseases like psoriasis, dermatitis, and eczema. Since it is organic, it can be used for babies and pregnant women.
---
Shea Butter for Hair and Hair Growth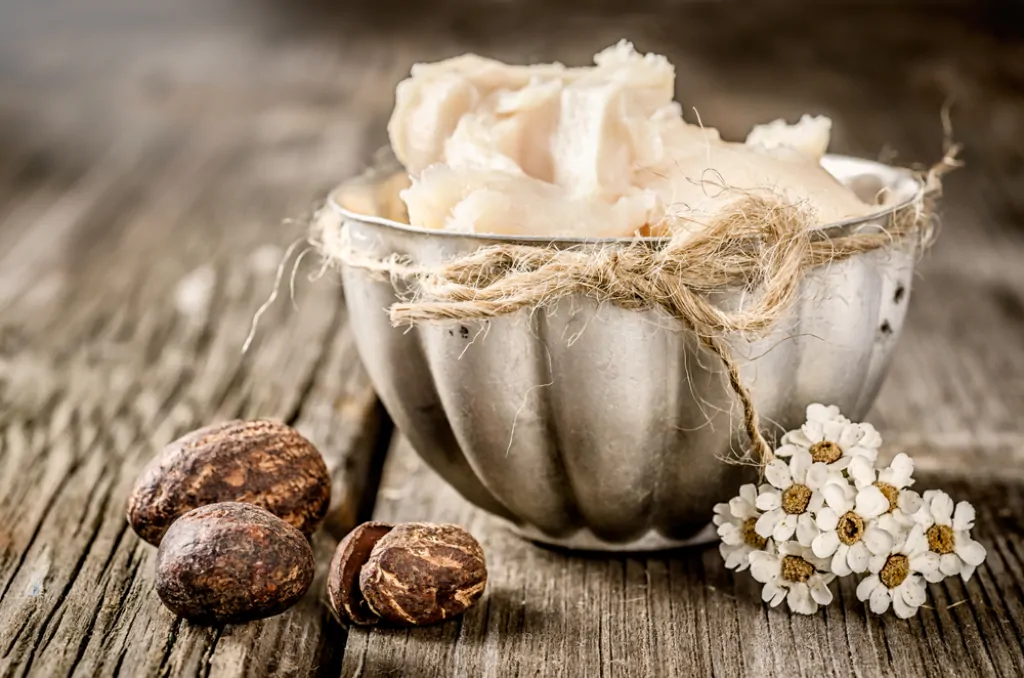 Scalp Irritation and Dandruff
Dry scalp is the root cause of having a flaky, itchy scalp. Use a small amount of shea butter, a dollop of it is recommended, then, sectioning your hair, massage it into your scalp in a circular motion. If you have dry and frizzy locks, you can also comb the shea butter through your hair and let it set in for up to an hour. Like a DIY hot oil or deep hair conditioning treatment. It works like magic!
Wild and Frizzy Hair
We love our natural hair big and wild. However, if your hair tends to get frizzy once it dries or it feels a bit unmanageable (we all have those days), go ahead and use shea butter to touch up those problem spots. Try smoothing down those flyaway strands, giving hair a healthy luster, and taking your frizzy tresses down a notch with it.
Hair Protection
I'm guilty of styling my hair with a flat iron, which resulted in weak hair and caused hair breakage due to the moisture loss. Upon rehydrating my locks with shea butter, I was able to repair breakage or damage, as well as prevent split ends thanks to the vitamins A and E in it.
Natural Hair Growth
We discussed the detoxifying properties of shea butter, thanks to which it rejuvenates the scalp and the hair follicles by reducing inflammation, giving more room for healthy hair growth. So remember, a healthy scalp promotes healthy hair growth.
For the skeptics out there, Shea Butter most certainly does have an instrumental role in combating hair loss. For a more detailed medical breakdown of why this happens, head over to Hairguard who have put together a thoughtful article explaining the benefits of shea butter for hair growth.
---
Which Shea Butter To Buy
So to know what works for you, you have to know that there are two types of shea butter—refined and unrefined. When it comes to buying high-quality shea butter, it's important to choose the purest, unrefined form as these are highest in quality.
Unrefined shea butter is completely pure and natural and hasn't been modified with additive formulas for the purpose of eliminating its natural scent and adding fragrances. Raw shea butter has a nutty scent.
---
Recommended Products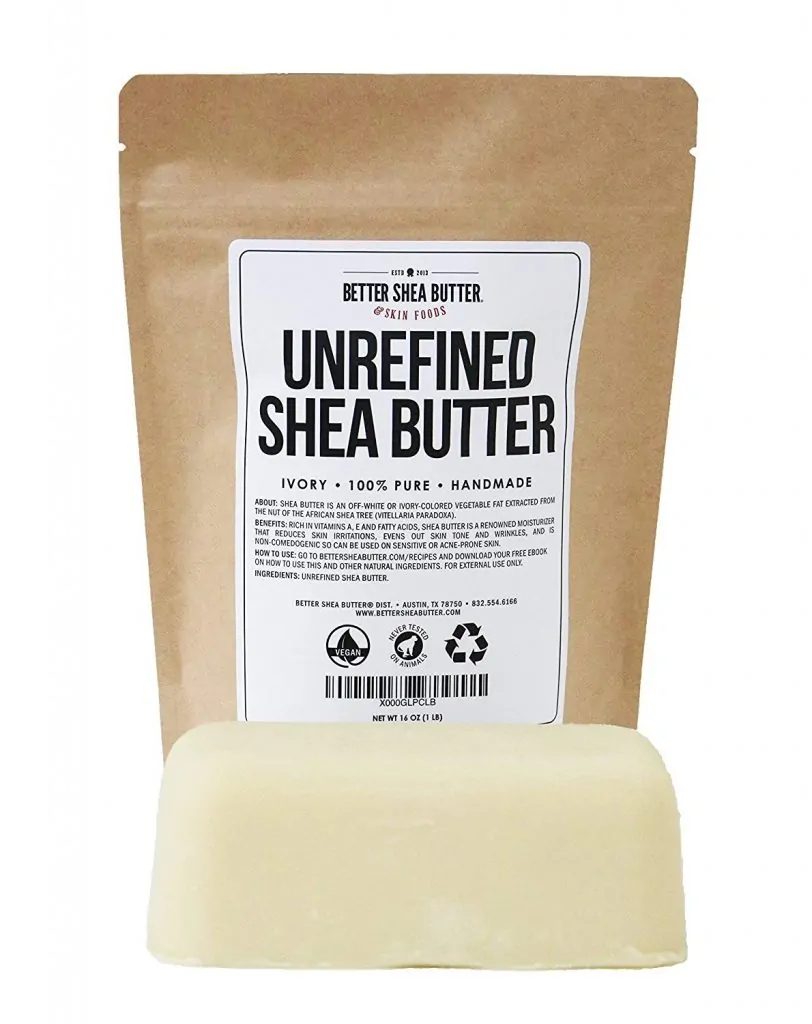 It is Ivory in color, which means it is definitely unrefined. The smell is smokey and nutty which is pleasant. What I like about this is that it isn't grainy, it's so smooth! It comes in a resealable pouch. It is a medium brick-sized block. As for the amount, it is economical because I only used a handful of it and the mixture of shea body butter I've made will last for more than two months and I still have so much more left which will be used for hair conditioning and other home-made salve and chapsticks.
---
What I like about this African shea butter product is it comes in a jar, which is pretty practical and most importantly, less messy for me. It is much easier to use and it looks like a jar of PB, thick and smooth. I also used it to smoothen my skin, just a little amount can cover so many problematic areas. I used it as a leave-in conditioner to tame my afros. This shea butter works best as a hair moisturizer.
---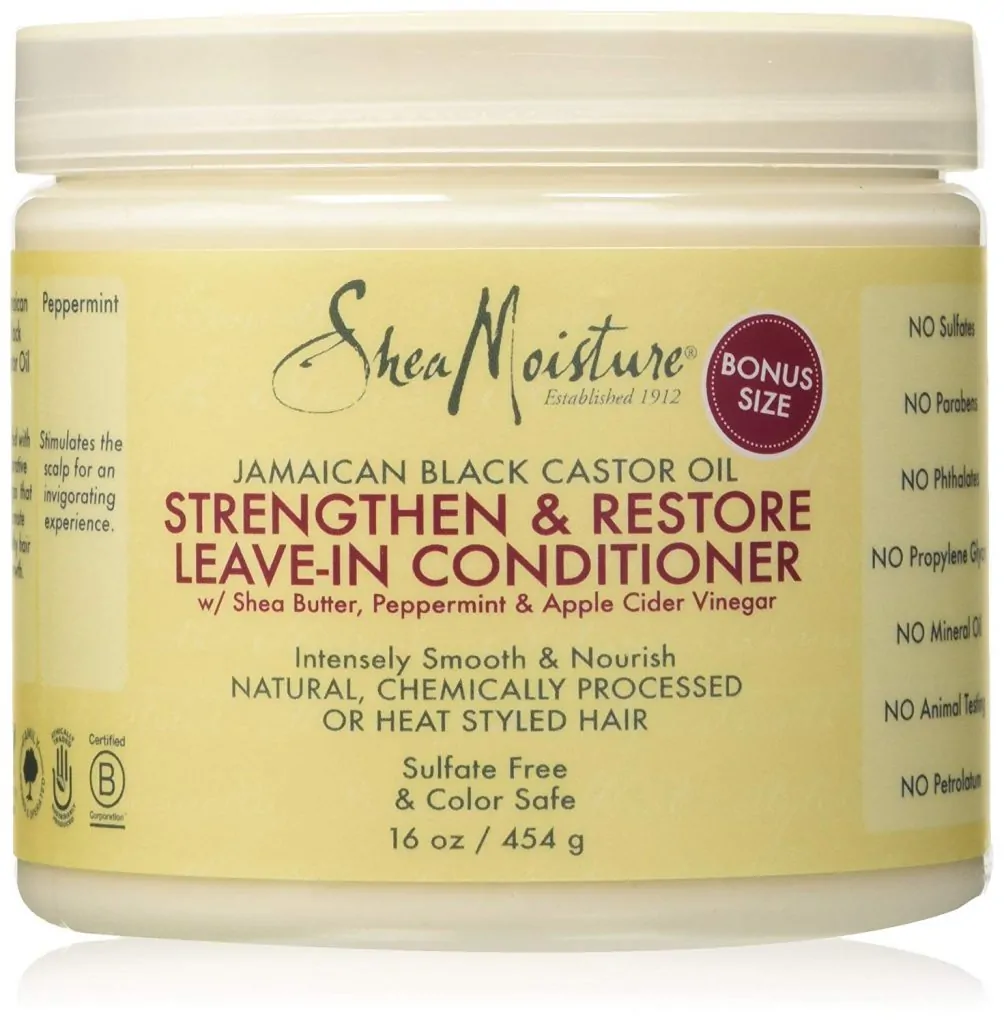 If you're looking for a more hair-centric shea product, this is what I recommend. Shea provides intense moisture, but this product is non-greasy at all! It is very helpful for people with dry and coarse hair. It also comes in a jar like most hair masks. My hair has been damaged by heat and different hair tools, but this leave-in conditioner brought back the glory to my crown! My curls are easier to manage, not to mention they are very soft (I love to touch 'em) smooth, and very easy to de tangle.
---
So if you love versatile products and crafting your own natural shea-based beauty, skin, and hair care, these products are definitely a perfect match for you.
---
If you enjoyed this page and would like to find out about other natural hair care products, then have a look at these other pages too!