Castor oil is one of those holy grails in the beauty industry when it comes to taking care of black hair. It's so popular and common that it's basically an essential haircare product that most black women use in their haircare regimes. However, in the sea of overwhelming amounts of information, it's easy to stumble upon information that either isn't entirely correct or isn't relevant because many hair brands tailor their products to the needs of looser, less curly hair.
Before we get into explaining what castor oil is and what it can do for your hair, I want to share my little secret with you.
Best Castor Oil For Black Hair
I spent a lot of time searching for the best oils to use on my 4C African hair, and I finally found a product I'm super happy with – USDA Certified Organic, 100% Pure, Cold Pressed Castor Oil by Kate Blanc Cosmetics. This is pure castor oil which hasn't been refined or processed and can be used on your hair, eyelashes and eyebrows.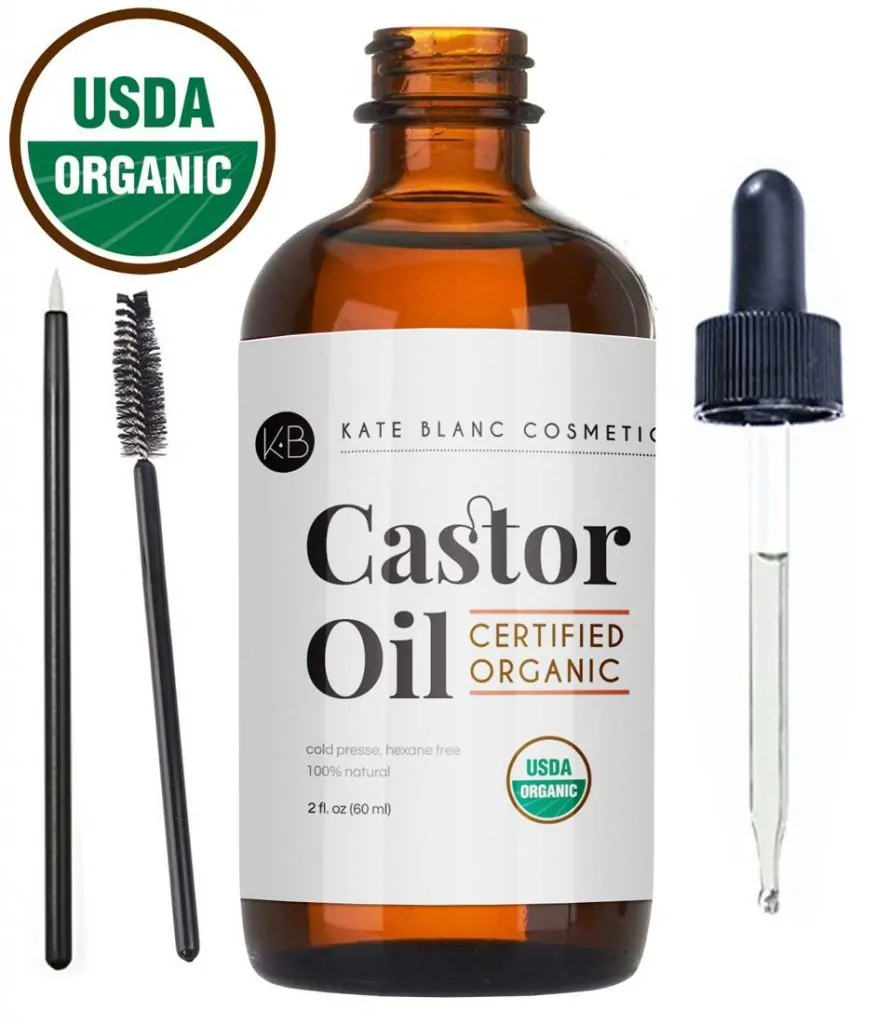 I love this product because it's guaranteed I'm using the best, unrefined castor oil which has a very high percentage of nutritious ingredients. The dropper allows me to dose as much of the product as I need and is overall a nice touch and easy to use. I like the fact it's fragrance-free and it does miracles for rehydrating and coating my hair, therefore protecting it from damage.
---
So – What is Castor Oil?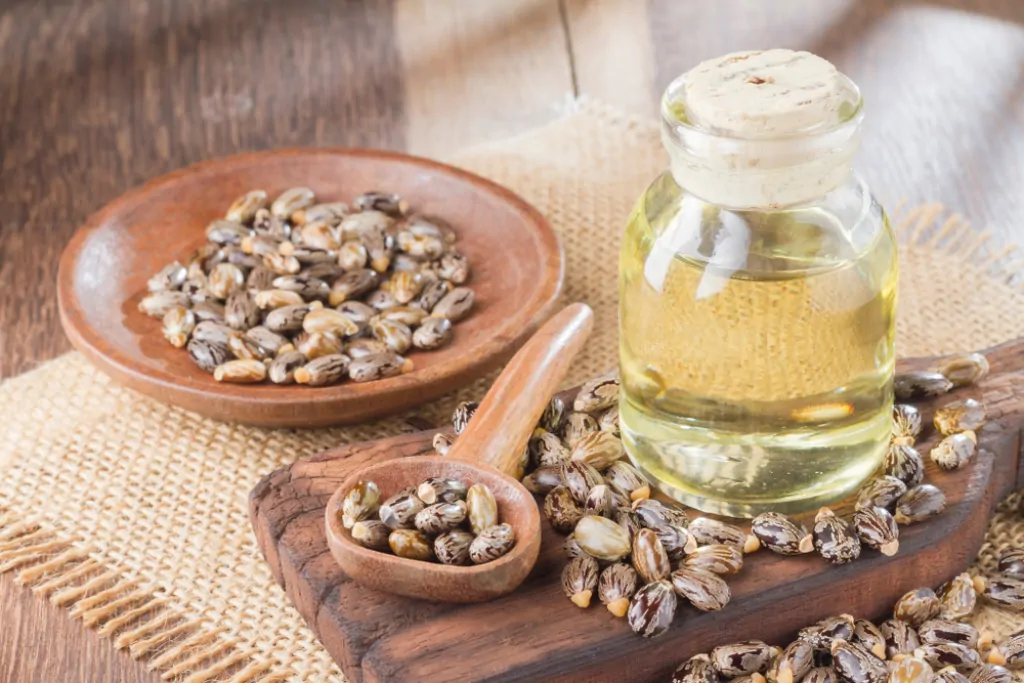 Castor oil is an oil extracted from castor beans growing on the plant called ricinus communis. The beans are picked, roasted on the fire, crushed into ash and slow cooked to preserve its nutritional content and balance. The final product should be translucent or light yellow with either a slight odor or no odor at all. It's one of the thicker, greasier oils, but don't worry – if you get a pure, unrefined castor oil, it will not leave any residue and your scalp and hair will just soak it all up. Castor oil is one of the rare oils that contains ricinoleic acid, which is an antibacterial fatty acid that also induces softness and smoothness of the hair, omega-6 which stimulates hair growth, as well as 18 other beneficial fatty acids.
---
How Castor Oil Works on Type Four African Hair
While castor oil isn't a miracle cure for making your hair grow very fast because it doesn't directly grow the hair, it does help by stimulating hair growth and making your hair a bit thicker. Castor oil actually works as a humectant, which is an expression for a product that attracts moisture to the hair and locks it in. Since it has the capacity to penetrate deeply into the hair structure and pores, it is able to nourish and revitalize each strand of hair. If you massage it into your scalp, it can also stimulate blood circulation which will stimulate hair follicles and ultimately, hair growth. Upon regular use, you will surely notice a gorgeous luster and increased hair volume. Due to its antibacterial properties, it works great for treating inconvenient scalp infections as well. It also contains antioxidants, which supports keratin production and makes the hair stronger and less frizzy.
Different Types of Castor Oil
There are several different types of castor oil. The best one for natural African hair is definitely organic cold pressed castor oil, because it means it was extracted without being put through the process of refining. This means its chemical composition wasn't changed by its exposure to heat or chemicals, and there was no degradation of the nutrients that are found in castor beans. This oil is perfect for those of us who have a dry scalp and issues with irritation because it is not as alkaline as Jamaican black castor oil.
Another type of castor oil is Jamaican black castor oil. This type of oil tends to be slightly processed, which gives it a black color. If you have 4C African locks, this oil may not be the best pick for you; but, this oil can help with cleansing of the scalp, so if you have problematic areas on the scalp, you can try it out.
Finally, there is a variation of castor oil that has been hydrogenated which results in the oil being turned into wax. The hydrogenation process is aided by a nickel catalyst which makes it insoluble in water. You can use castor wax as a thickening agent for your homemade hair masks or other beauty related DIYs.
---
Using Castor Oil for Your Hair
Although you can just directly apply castor oil to your scalp and hair, starting from the roots all the way down to the ends of your hair, I like to mix things up a little. Here's an interesting recipe for adding an extra twist to your castor oil hair routine. Add a tablespoon of castor oil into one cup of warm water infused with cassia. Add 2-3 drops of essential oil with a pleasant fragrance, whichever you prefer – I like to use lavender oil due to its antiseptic properties. Apply this to your hair and scalp either by massaging it in with your hands or by transferring the mix into a spray bottle and spritzing it on your hair. Leave it in for about 30 minutes and then rinse off. However, remember that castor oil is a dense sticky oil and is hard to wash out – do not go overboard with it!
Finally, braid your hair into braids that aren't too tense and don't tug at your scalp and hairline, and voila – you're all set! Until the next time you apply some castor oil, because you definitely will keep coming back to it when you see the results!
---
If you enjoyed this page and would like to find out about other natural hair care products, then have a look at these other pages too!