Whenever anyone talks about afro hair, it isn't long before the k-word is mentioned – keratin is the treatment for black hair today (tomorrow it may well be something different).
What is Keratin?
Keratin is a fibrous protein that makes up the structure of hair and nails.It's insoluble, tough and the fibers can link together to form hard surfaces, such as animal hooves and horns.
At the center of every hair shaft is the medulla, surrounded by the cortex, the main bulk of the shaft. This is formed by long strands of keratin, held together with hydrogen bonds. These bonds are what give the hair its flexibility, allowing the tough keratin strands to remain locked together, despite the hair's movement.
The outside of the hair shaft is protected by the cuticle – a layer of microscopic overlapping scales, or cells, which work to minimize moisture moving in and out of the cortex. With healthy hair, the scales lie flat and the hair feels smooth, but if the hair becomes unhealthy, the scales are raised, giving a rough feeling, and exposing the cortex to any potential damage.
What Are Keratin Treatments?
Keratin hair treatments are a revolutionary way to smooth and give a glossy sheen to your hair without resorting to harsh chemicals. If you visit a salon, you can expect to pay up to a frightening $800 per treatment, but for a tiny fraction of that, you can carry out your own keratin hair treatment at home
Taking up to three hours, keratin is applied to your hair, coating each strand. Allowed to dry, flat irons are then used to straighten and smooth the hair. The treatment can last for up to six months, depending on how frequently you wash your hair.
---
How To Do a Keratin Treatment at Home
Wash your hair thoroughly using a good clarifying shampoo, and don't condition
Gently remove any knots and tangles
Comb through your hair
Dry your hair completely, making sure it's totally dry
Using butterfly clips, separate your hair into three, and clip up two of them
Starting at the roots, apply the keratin treatment all the way down the strands, ensuring that every hair is coated, but not dripping wet.
If you've applied too much keratin, comb out the excess
Repeat with all the sections
Comb through
Using a hair dryer on a high speed/medium heat setting, dry your hair thoroughly. Use your hands, or a comb, to lift up your hair, allowing the air to blow through it all
Wait for 10-15 minutes, and while you're waiting, heat up your flat iron to between 400 and 450 degrees
Go back over your hair with the dryer just to double check it's completely dry
Open the windows as the fumes from the next stage can be strong
Separate your hair into loose 2-3 inch sections, and start straightening with the iron
Go over each section between 5 and 7 times
And……relax!
---
Avoid washing your hair for at least three days, as this allows the keratin to completely penetrate the shaft. You may find your hair, whilst smooth, lacks a little shine. Just wait! Three or four days later when you first wash your hair – WOW! There's the shine you wanted! For best results, always use a sulfate-free shampoo after a keratin treatment to ensure your hair stays gorgeously sleek and frizz-free.
The keratin treatment I love is Moroccan Keratin Treatment.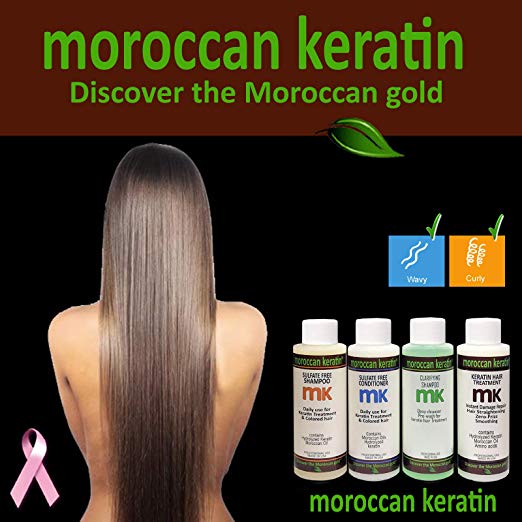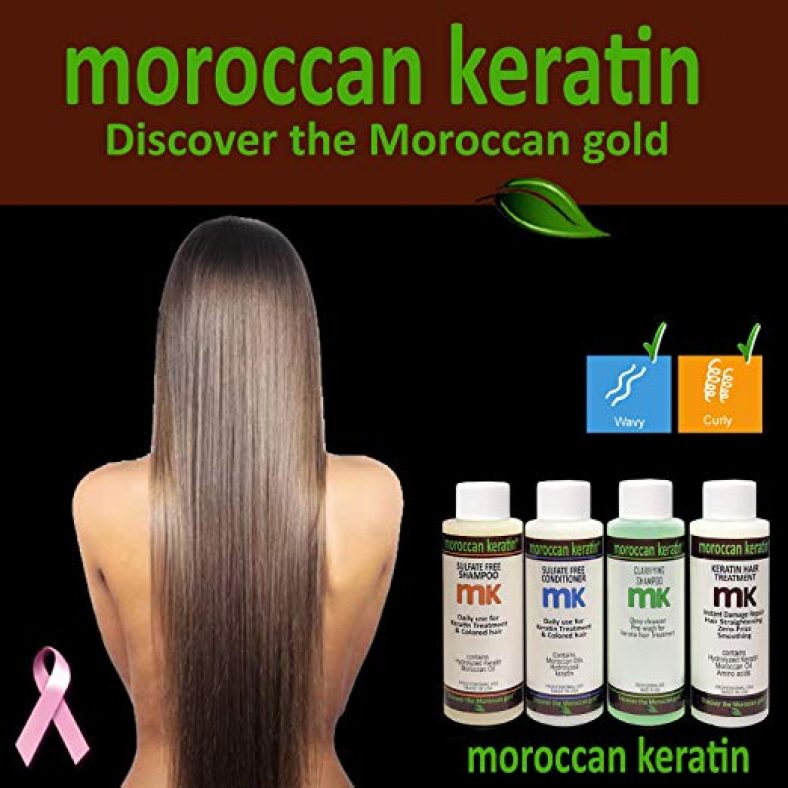 It includes everything you need to carry out several home treatments – clarifying and sulfate-free conditioners and shampoos and the keratin treatment itself. All the products smell gorgeous and leave my hair in amazing condition due to the Moroccan argan oil. I don't need to repeat the treatment that often, either, as I find it lasts for about 6 months.
I love my hair!
---
If you enjoyed this page and would like to find out about other natural hair care products, then have a look at these other pages too!