Amazon's Choice
Editor's Pick
Good Choice
Also Consider
Cliganic Organic Jojoba Oil, 100% Pure (4oz) | Moisturizing Oil for Face, Hair, Skin & Nails | Natural Cold Pressed Hexane Free | Base Carrier Oil
NOW Solutions, Avocado Oil, 100% Pure Moisturizing Oil, Nutrient Rich and Hydrating, 4-Ounce
PURA D'OR Organic Moroccan Argan Oil (4oz / 118mL) USDA Certified 100% Pure Cold Pressed Virgin Premium Grade Moisturizer Treatment for Dry, Damaged Skin, Hair, Face, Body, Scalp (Packaging may vary)
Pomegranate Seed Oil 4 oz (2 x 2 oz) | For Face & Hair | Promotes Clear Looking Skin, and Reduces Appearance of Fine Lines and Wrinkles | Non Comedogenic & Cold Pressed | SLS & Paraben Free | By Coera
Here are all the light oils for low porosity hair that work magically. After a month or 2 of usage, you will notice a clear difference.
Are you tired of applying natural oils or your mother's remedies on your hair, but it gives no result? Trust me; no one understands your pain more than me. Having low porosity hair myself, I know the struggle. Even after applying half of the coconut oil bottle on my hair, they always stayed dry and frizzy. After a lot of disappointments, I was told by a friend to check my hair type and check which specific oil I should be using.
After digging through the internet and trying out some tests to check my hair type, I realized I have low porosity hair. And that is how I found out the best remedy for my hair care. In this article, I listed all the light oils that work magically on your hair. After a month or 2 of usage, you will notice a clear difference in your hair. So without further ado, let's explore this magic.
Top Oils For Low Porosity Hair
1. Argan oil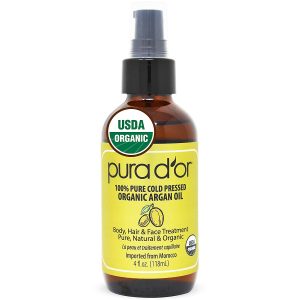 The best oil for low porosity oil that I will recommend to every person with this air type is Argan oil. It is the most effective oil ever for your low porosity oil. The argan oil is the rarest to find as the Argan trees grow in rare locations. It comes from Morocco and is called "Morrocan Oil" for this reason.
Argan oil consists of carotenoids. Vitamin E, phytosterols, 80% unsaturated fatty acids, polyphenols, and ferulic acid. With all these great ingredients, it is a nutritious packed oil that gives your hair the right amount of moisture, care, and health. Argan oil is best known for its moisturizing powers.
Apply this oil to your hair and rub it and massage through your hair and scalp. Argan oil forms a protective layer around the hair and gives it moisture. The oil gets absorbed in your scalp and hair follicles, and after washing the oil off, you will feel the difference.
Pros
Make hair thicker
Prevent hair loss
Non-greasy
All in all, argan oil has all the essential ingredients that prove best for low porosity hair. It can be used in several ways to treat your hair. You can use it in serums, hair masks, shampoo, and conditioners. You can get salon-like hair treatment sitting at home.
2. Jojoba oil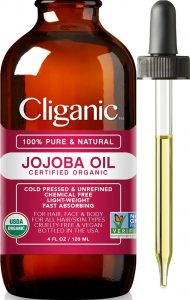 Jojoba oil is an oil extracted from the jojoba seed that originates from the North American Continent. Jojoba oil is best for low prosperity hair. It is an affordable oil that can give your hair a shiny, healthy outlook sitting at home.
It reduces grease out of your hair and protects it from split ends. With perfectly moisturizing hair, it prevents your scalp from dandruff. A dandruff-free scalp means no hair loss. It contains Vitamin E, which ensures excellent scalp health.
It is the best option for low porosity hair because it seals moisture in your hair without making them look greasy and sticky. Moreover, the exceptional quality found in jojoba oil is that it is similar to the natural oil that our bodies produce. The jojoba oil prevents hair loss and unclogs the hair follicles, which promotes hair growth.
Pros
Moisturize hair follicle
Prevent hair loss
Closes scalp pores
In short, jojoba oil has all the qualities through which you can achieve perfect, shiny, and healthy hair. It is a non-greasy, lightweight oil that seals moisture in your hair and keeps it healthy, dandruff-free and shiny all over. The best choice for low porosity hair.
3. Baobab oil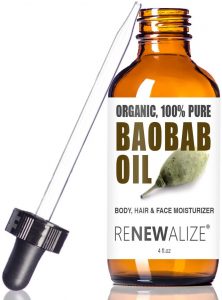 Next on the list, we have the organic, 100% unrefined Baobab oil. Baobab oil originally comes from Africa. Due to its incredible softening and moisturizing power, it is also an excellent choice for low porosity hair. It not only moisturizes the roots of your hair but leaves them soft and glowing after applying it.
Simply massage it on your hair and leave it for 1 or 2 hours to use this oil. After washing your hair, you can notice the difference immediately. Apart from applying it directly to your hair, you can use this oil in different hair masks or hair remedies to get effective results.
The best point that I like about Baobab oil is that it contains omega 3, omega 6, and omega 9 fatty acids, which are rare. We all know what benefits these unique ingredients hold for hair. These fatty acids promote hair growth and prevent hair loss.
Pros
Contain valuable fatty acids
Best moisturizer for hair
Heals damaged hair
In conclusion, baobab oil gives perfect results when applied to hair. You can have several treatments at home with this oil to get strong and luscious hair. It moisturizes, softens, and strengthens your hair. Just apply it once a week and have the healthiest hair ever.
4. Pomegranate Oil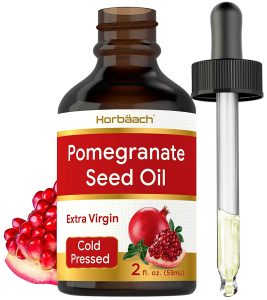 Next, we have pomegranate seed oil. Lightweight oil that absorbs easily in the skin and moisturizes it perfectly. The pomegranate oil is extracted from pomegranate seed oil. This oil is 100% organic and natural, which assures 100% results.
Pomegranate oil concentration is very high; that is why it is used in a small amount, and it perfectly absorbs in your scalp. Apart from moisturizing quality, pomegranate oil contains punicic acid, vitamin C, linoleic acid, flavonoids, and oleic acid, which increases blood flow.
Increased blood flow in the scalp promotes hair growth. A little hot oil treatment once a week can give you shiny, thick, and glowy hair in a month. As it is lightweight, it is highly recommended for low porosity hair. You can apply it on your hair and your face and have both glowing face and hair overnight.
Pros
Vegan
Increase blood flow
No artificial fragnance
This natural pomegranate seed oil is another best option you will find in the market for your low porosity hair. I recommend this too; it promotes hair growth, increases blood flow, is lightweight, and is medium penetrative oil that moisturizes your hair to the fullest.
5. Sweet Almond Oil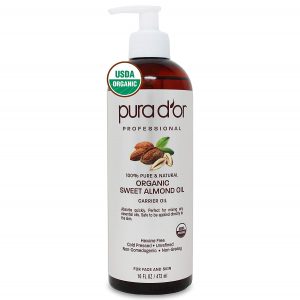 The magic sweet almond oil that does wonders for your skin is no less beneficial for your hair. A bottle of sweet almond oil can give you such perfect, healthy hair that you will cherish for your life. It is extracted from almond nuts by cold pressing.
The organic and natural sweet almond oil, when applied to hair, leaves the hair soft and glowing. Sweet almond oil contains magic ingredients like Vitamin A, Vitamin E, proteins, potassium and zinc, oleic acid, linoleic acid, stearic acid, and palmitic acid.
The special Linoleic acid is the key ingredient that makes this oil the best for low porosity hair. Linolic acid helps in sealing the moisture in the hair. Sweet almond oil mixes with other oil like jojoba oil and grapeseed oil easily. You can mix these oil and apply on your hair for incredible results.
Pros
Organic
Non-greasy
Natural moisturizer
If you have low porosity hair with dry strands, split ends, and a brittle appearance, get this oil and make your hair soft, smooth, and shiny. Sweet almond oil removes frizz from your hair and softens them, too, as it is known as a natural hair softener.
6. Grapeseed Oil

Grapeseed oil that is extracted from the grapeseed is known for restoring your hair's shine and vibrancy. This light oil easily absorbs in your hair and seals the moisture, thus giving back the shine and vibrancy to your hair when they are damaged.
You will find many high-end hairstyling oil brands using this as an ingredient in their products. It is because grapeseed oil is used as a strengthener too. It forms a protective layer around your hair and protects it from heat and chemicals.
Natural grapeseed oil is the ultimate best one for low porosity hair. Especially if you have thin hair, this one is best. It is light and does not weigh down or sit on your hair. Grapeseed oil is loaded with vitamins A, E, and K, making it perfect for your hair care and protection.
Pros
Natural strengthener
Protect the hair
Paraben-free
Grapeseed is the best pick for low porosity hair, especially for thin and fragile hair. It seeps into your scalp and promotes the growth of your hair. The grapeseed oil strengthens your hair and protects the hair from heat. The other plus point about this oil is that it is odorless and is a great pick for odor-sensitive people.
7. Avocado Oil

Next on our list is avocado oil. Avocado oil has a little thick consistency as compared to other light oils. Avocado oil stimulates blood flow in the scalp. Avocado oil unclogs the hair follicles and promotes healthy hair growth. It keeps your hair hydrated.
It penetrates deeply into the scalp and moisturizes your scalp, which keeps your hair soft and strong. This avocado oil is hexane-free and natural. Although avocado oil is of thick consistency, it does not give a greasy or sticky effect. It does not leave any oily residue on your hair.
Avocado oil is unrefined and rich in nutrients that stimulate hair growth, give silky, shiny hair, and leave a calming, soothing effect on your scalp. Moreover, it does not have any synthetic irritating fragrance, so if you are sensitive to fragrance, this one is rightly made for you.
Pros
Free of chemicals
No synthetic fragrance
Hexane-free
In conclusion, Avocado oil has all the qualities that prove best for low porosity hair. It is cruelty-free, hexane-free, unrefined, and deeply penetrates the scalp. The avocado oil provides full nourishment to the scalp and roots of your hair.
8. Sunflower Seed Oil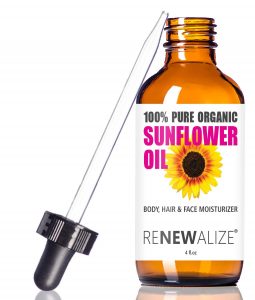 Oil extracted from sunflower seed is known for its amazing traits. The sunflower oil is a light oil that quickly absorbs in low porosity hair and promotes hair strength and glows. The sunflower oil leaves a sheen glow in your hair that reflects a rich, healthy appearance on your hair.
Sunflower oil is rich in Vitamin A and Vitamin E, which are antioxidants. The sunflower oil helps fight the bacteria and prevents it from building up on the scalp hence providing a healthy scalp. It leaves the scalp dry and fresh after washing off the sunflower oil, leaving no oily residue.
The biggest advantage of sunflower oil for hair is that it contains oleic acid. Oleic acid prevents the hair from breakage and promotes hair growth. Suppose you find your hair thinning or you are having balding spots on your head. Sunflower oil is here at your rescue.
Pros
Natural conditioner
Has oleic acid
Promote frizz control
In short, sunflower oil is an old remedy that always works for hair. It proves its ability every time you use it on your hair. It leaves the hair smooth, shiny, and sleek. The sunflower oil works as a natural conditioner that also helps your hair in frizz control.
What To Know Before Buying Oil For Low Porosity Hair
It is essential to do your homework before buying anything. Everyone in their teenage years must have applied every other oil that comes their way, thinking that it will work fine on their hair without knowing that every hair has its own qualities and traits. Not every oil gives the right moisture and cares for every type of hair. I myself got to know very late in my life that olive oil or coconut oil wasn't working for my hair. It wasn't enough for my hair. No matter how much or how many ways I applied it to my hair, it showed no result. Then after some research, I got to know that my hair has low porosity.
What is Low Porosity Hair?
Low porosity means that your hair structure does not allow the oil or any moisture to get absorbed into your hair. The cuticles of low porosity hair are tightly bound together, leaving no space to absorb any moisture. That is why your hair is dry, flaky, and brittle, no matter how much almond or coconut oil you apply to it. It is very hard to gain moisture in your hair with low porosity, but not all hopes are drowned. For every problem, there is a solution; we just have to do a little search for it.
How To Know You Have Low Porosity Hair
To test the porosity of your hair, you do not need to go to any laboratory. A simple and quick hack you can try at home and find out about your hair. All you need is a glass filled with water. Take a strand of your hair and drop it in a glass of water. If your hair sinks in water after a second or two, that means you have high porosity hair. But if the hair takes a little longer before sinking in water or if it doesn't sink at all and floats on top of the glass, that means you most likely have low porosity hair.
Apart from this quick test, you can also notice other very obvious characteristics. For example, low porosity hair takes longer to get wet or to dry.  When you wash low porosity hair, it takes an hour to air dry them. Even with an air dryer, it takes longer than expected.
Similarly, it takes longer to get wet because of its low absorbing quality. It absorbs water slowly. The other thing which you will notice in low porosity hair is that it doesn't absorb any product applied to it. If you apply oil to your hair even after hours, you can feel the oil sticking out from your hair. It doesn't absorb completely in your hair. If you touch your hair, you will feel the oil getting on your fingers and sitting on your hair.
Now, most people do not know about this. I myself was very reluctant to give any attention to this particular detail of the hair. I always thought that all hairs are the same. Some are thick and some thin, but they all have the same structure. You too will find it very helpful. Once you find out about your hair porosity, it is easy to get oil to treat them the way it deserves.
What To Know About Oils For Low Porosity Hair
After finding out about your hair type that they are low porosity, the next step is to get the right oil for your hair, and that is our target. The most important thing to know about low porosity hair is to use light oil.
What Is Light Oil?
As the name suggests, light oil is lightweight and absorbs quickly in hair. That is why they are the only oil that will work for low porosity hair. They seep in the hair easily and do not weigh them down. Lightweight oil provides the perfect blend of shine, healthiness, moisture, and glow to your hair. That is why always know to go for a light oil for your low porosity hair to treat them better.
All the oils listed above are light. Any of them will give perfect results on your hair. Remember that heavy oils are of no help to low porosity hair. The low porosity hair doesn't absorb heavy oil, so they just sit on your hair and give no benefit. The list of heavy oils contains coconut oil, castor oil, and olive oil.
After reading this, you will know why it is important to get yourself familiar with all the knowledge about your hair and the products you are using on them. Because without knowing, if you apply products on your hair to get them better, they remain the same flaky, rough, and dry. It doesn't only waste your money but effort and time as well.
FAQs
How do you keep low porosity hair moisturized?
The best way to moisturize your low porosity hair is to use light oils. Apart from oiling, use a shampoo and deep cleanser with humectants like glycerin or honey. It is a moisturizing agent found in lotions, shampoos, and conditioners that keep your hair moisturized for a longer time.
Is coconut oil bad for low porosity hair?
Coconut oil is best for high porosity hair as it is heavy oil and can seep into hair cuticles of high porosity hair. However, for low porosity hair, the hair's cuticles are tightly packed, allowing a little space for any moisture to absorb in the hair. That is why coconut oil does not absorbs into the low porosity hair hence give no results.
Wrapping It Up
Dealing with low porosity hair might be difficult, but you can manage them well by giving it a little time and hard work. After reading this article, I hope you know what low porosity hair is and what exact oil you need to take care of your hair. Out of the 8 oils that are listed above, I personally love the Argan oil the most. It is the most effective oil for low porosity hair that promotes healthy hair and scalp.
Take a look at these oil for low porosity hair from Amazon also:
Sale
Maui Moisture Nourish & Moisture + Coconut Milk Conditioner to Hydrate and Detangle Curly Hair, Lightweight Daily Moisturizing Conditioner, Vegan, Silicone & Paraben-Free, 13 fl oz
Curl-nourishing coconut milk hair conditioner
MOISTURIZE and NOURISH LOCKS: This 13-fluid ounce bottle of Maui Moisture Nourish and Moisture plus Coconut Milk Curl Conditioner helps hydrate and nourish curls for a healthy-looking glow and shine
CURLY HAIR CARE: Ideal for wavy to tight curls, the hydrating conditioner is suitable for daily use and safe for use on color-treated hair to help detangle curls and restore strands without buildup
UNIQUE BLEND WITH ALOE VERA: The rich blend of this nourishing vegan conditioner contains 100% aloe vera as the first ingredient along with coconut milk, guava extracts and mango butter
NOT ALL MOISTURE IS THE SAME: The gentle and nourishing formula of this sulfate-free surfactant moisturizing conditioner is vegan, free from silicones, parabens and mineral oil and contains no synthetic dyes
Qhemet Biologics Coconut & Green Tea Softening Serum - Lightweight Hair Serum to Soften, Smooth & Revitalize Dry Hair - Adds Slip and Shine to Thin, Fine, Low Porosity Hair (2 oz)
Ideal for Dry, Thin Hair - This rich blend of oils will keep dry, thin and low-porosity hair soft and supple, without weighing it down. It's perfect for thick, high-porosity 3C hair, too.
Great as Finishing Oil - Lock-in moisture and add sheen to loose hairstyles, and use as a take-down oil for twists and braids for smooth, frizz-free definition.
Nourishing Ingredients - Contains a blend of 100% pure coconut oil for slip and lubricity, omega-rich green tea oil and our ancient miracle ingredient, castor oil.
Moisturizing Castor Oil - Used for centuries and is perfect for afro textured hair and acts as a thickening agent and conditioner. It naturally draws moisture to the hair, locking it in and preventing moisture loss.
No mineral oil, petroleum, proteins, lanolin, silicones, artificial fragrances, dyes or parabens. 100% vegan.
Cantu Tea Tree & Jojoba Hair & Scalp Oil with Shea Butter, 6 fl oz (Packaging May Vary)
ENCOURAGE HEALTHY GROWTH: shea butter, jojoba oil & tea tree oil condition scalp & nourish roots to help promote healthy hair growth
MOISTURIZE BRITTLE HAIR: hydrates dry strands to help prevent breakage & split ends
NO-DRIP FORMULA: makes for easy application
HAIR TYPES: great for relaxed, color treated, permed, weaves, extensions & braids
CRUELTY-FREE: absolutely no testing on animals
Sale
Sweet Almond Oil - 100% Pure Hair and Skin Softener, Non-Greasy for Massage, Carrier Oil for Essential Oils and DIY Beauty Blends, Expeller-Pressed Almond Oil for Body, Non-GMO, 16 fl oz
Naturally Derived Hair Oil and Massage Oil – Pressed from Non-GMO sweet almonds, our almond oil moisturizes without leaving hair and skin looking or feeling greasy, making it the perfect oil for hair treatments and massages.
Ultra-Hydrating Face Moisturizer – If you're looking for an almond oil (not to be confused with almond extract) for dry skin, you've found it. Our Sweet Almond Oil nourishes skin, embracing you with skin-loving fatty acids to lock-in moisture.
Perfect Carrier Oil for DIY Blends – Pure almond oil makes the perfect carrier oil for essential oils. Use it to make a nourishing DIY body massage oil, or as a facial oil for gua sha tools.
Fast-Absorbing & Non-Greasy Sweet Almond Oil for Skin – Whether you use almond oil for hair or skin, our Sweet Almond Oil is clean, light and glides on easily, leaving skin smooth and glowing, never greasy.
Non-GMO & Product of USA – Unlike other brands made from lower quality almonds, our sweet almond oil is expeller-pressed from the almonds grown right here in the USA. Plus, it's Non-GMO Project Verified and hexane-free, with no added ingredients.
Sale
Mielle Organics Babassu & Mint Deep Conditioner with Protein, Moisturizing & Conditioning Deep Treatment, Hydrating Repair for Dry, Damaged, & Frizzy Hair, 8-Ounces
THE BENEFITS OF BABASSU: This unique formula fuses invigorating natural oils with a rich blend of healthy fatty acids from pure South American babassu oil to strengthen hair elasticity and reduce breakage while smoothing ends, frizz, and flyaways
NOURISH HAIR & SCALP: With nutrient-rich oils and complex amino acids from wheat, soy, and other natural ingredients, this moisturizer penetrates and replenishes your follicles and skin for a healthy scalp and soft, bouncy hair
SCULPT & DEFINE: Our intensive blend of proteins and conditioners can be used as a sculpting gel to hydrate and condition hair while adding definition and lasting shine to curls, waves, coils, and chemically-treated styles
SAFE FOR ALL HAIR TYPES: Our versatile Babassu & Mint Deep Conditioner with Protein promotes manageable, radiant hair for all hair types, deeply nourishing types 3A to 4C, color-treated hair, braids, weaves, and both low and high porosity level hair
BY WOMEN FOR WOMEN: Mielle Organics aims to empower women of all hair types and styles with powerful products and gentle, organic ingredients that amplify your natural beauty and are the "root to results" that leave you looking and feeling your best
Sale
Sale
Sky Organics Organic Castor Oil for Hair, hexane free Lashes & Brows 100% Pure & Cold-Pressed USDA Certified Organic to Strengthen, Moisturize & Condition, 16 fl. Oz
WHY WE LOVE IT: Sky Organics Organic Castor Oil is a natural source of fatty acids that help moisturize the roots and nourish hair follicles for healthier, stronger and fuller looking hair, lashes and brows.
FOR FULLER LOOKING HAIR: Sky Organics Organic Castor Oil helps condition roots and nourish hair follicles for healthier, stronger and fuller looking hair, lashes and brows.
COLD-PRESSED: Sky Organics 100% pure Organic Castor Oil is retrieved through a process of cold-pressing rather than chemical extraction to help retain its vitamins and antioxidants and eliminate any potential irritants.
FOR BEST RESULTS: Warm a quarter sized amount of Sky Organics Organic Castor Oil into the palms of your hands and spread evenly all over scalp. Comb through from roots to ends. Leave in overnight or at least 1 hour, then wash out with shampoo to reveal deeply-hydrated, luscious-looking hair.
GOOD FOR YOU, GOOD FOR THE PLANET: Sky Organics Organic Castor Oil is USDA Certified Organic, 100% vegan and cruelty-free and is responsibly made in small batches with the highest quality ingredients.