Now, I don't need to tell you how difficult it can be to grow black hair, especially if it's damaged. It can be hard to grow undamaged black hair due to its coarse, dry and wavy nature, and although we all have our own ways to deal with it, sometimes we just need a hand. Sometimes, due to invasive chemical treatments and dyes, the hair follicles can get damaged which makes intense hair fallout a very common occurrence.
Here's how to take care of your hair, stop that from happening again and nourish it back to health.
The Biology Bit

Hair shafts grow out of follicles, which are tiny 'sacks, located just underneath the surface of the skin. At the base of this sack, sits a bulb, and it's this that the shaft grows out of, using keratin as its building blocks.
A hair shaft is composed of three layers – the cuticle is the outer layer, the main body is called the cortex and right down the center, like a spine, is the medulla. This is the same with all of our hairs – from our heads to our toes (hairy toes?), but there are ethnic factors that can affect how our hair grows from the follicle.
The hole that the shaft grows through is a different shape depending on your ethnicity – Asians have a circular hole so the hair can grow strong and straight, Caucasians tend to have elliptical holes that grow slightly wavier hair shafts, and African Americans have egg-shaped, oval holes, causing the hairs to grow in a spiral shape. They also grow slower than other ethnic hair types.
The cuticle is made up of overlapping scales that lie flat in healthy hair, giving it a glossy, smooth shine; however, with dry or damaged hair, the scales stick up, getting snagged on anything and causing more damage. As you can imagine, African American hair, being so wavy, puts the cuticle under a lot of stress. It can be hard to keep the scales lying smoothly, and the hair shafts can be delicate and prone to breaking.
Genetically, then, our hair is hard to care for, but when we go and apply heat, relaxers, hair sprays and colorants and more, is it any wonder that it feels so coarse and rough sometimes?
---
Keeping your Black Hair Healthy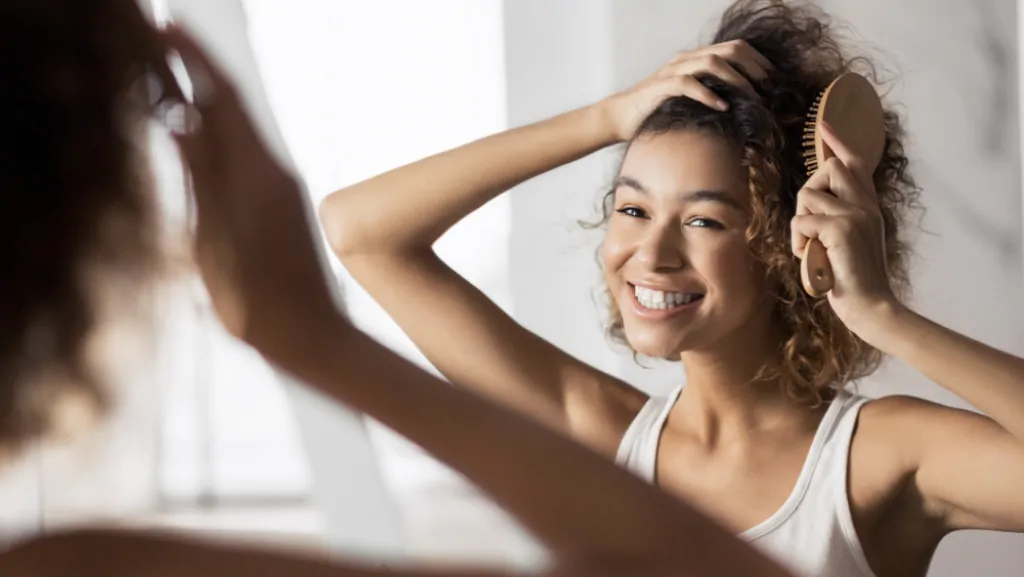 Firstly, it's important to include plenty of vitamins and minerals in your diet – if you find that difficult, which it can be as we're on the go the whole time, cheat and visit the health store for some supplements!
But the other factor is moisture. Yes, drinking plenty of water is crucial, but so is moisturizing your beautiful black hair.
---
Best Product for Moisturizing Black Hair
This Virgin Hair Fertilizer Conditioning Treatment is one of the best nourishing hair products I've tried.
It works its magic on both the scalp and the hair; nourishing the skin of the scalp and promoting hair growth, as well as hydrating your hair to make it more elastic and less prone to breakage. This conditioning treatment is full of vitamins and essential oils, and also contains the holy grail in black hair care – shea butter. Peppermint extract is a nice touch as it produces a wonderful, fresh smell and works as an antiseptic against bacteria buildup on your scalp.
---
Oils, conditioners, and moisture-enhancing products are excellent and should be used every time you wash – making sure you smooth them all over, especially the tips of the hair. Try and leave these products on as long as possible to ensure you gain the maximum benefits.
But there are also a couple of things to remember:
Protect your hair before styling
Plan ahead when you wash your hair, thus avoiding the need to use a hair dryer which can be very damaging
If you want to use a relaxer, be careful. Only apply it to hair that isn't relaxed or is new growth.
Using straighteners should be done with caution, and not too frequently – only once a week if possible. Choose a model that has temperature controls, and use them on the coolest setting you can get away with to achieve the style you want.
Using the wrong shampoo – some can be very harsh so avoid ones that contain sulfates, and always make sure you're using one specifically designed for African American hair. Often they include oils such as argan or jojoba.
Even though you might be trying to grow your hair, make sure you have regular trims. If you trim the tips every couple of months, removing any split ends or kinks, the hair shaft can remain healthy, and isn't as likely to break off.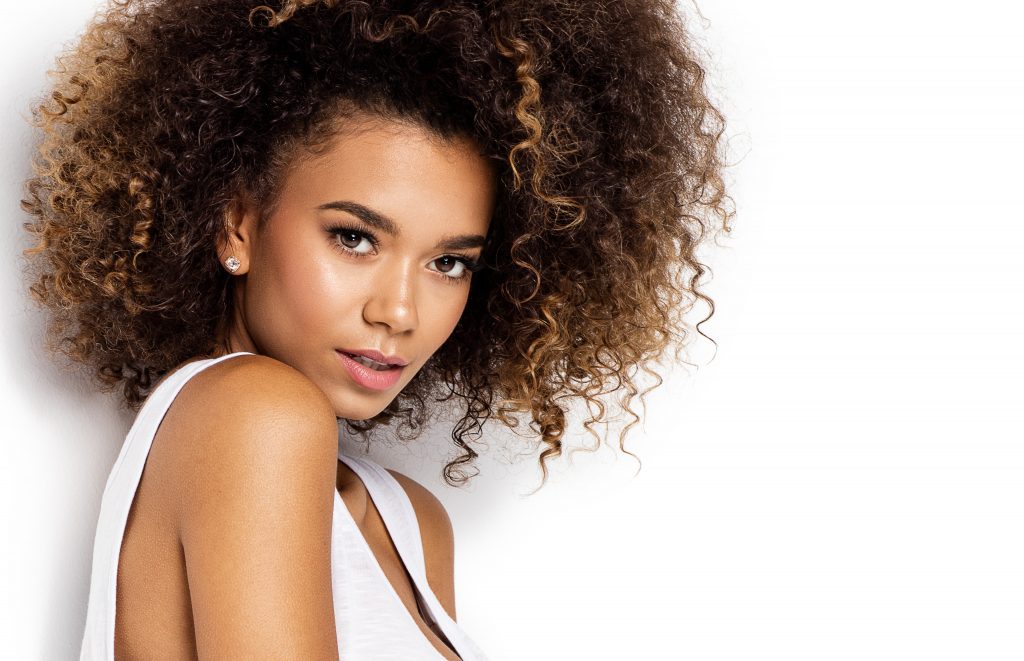 ---
How to Grow Damaged Black Hair
Once you've started a routine to keep your hair healthy, you can encourage it to grow, knowing that any regrowth will look amazing.
Here are a few other tips that I recommend:
Coconut oil is wonderful for promoting thick, healthy hair growth. You can take it internally as a supplement, or use it as a moisturizer.
Deep conditioning protein treatments are great for encouraging the new hair growth to be luxurious and glossy
Although obviously, you're taking care of your nutritional needs (you are, aren't you?), fish oil is popular as a hair growth product. Rich in omega 3 oils, because they keep your hair in top condition, any new growth coming through is at optimal health too.
These are the tips that I use with my own hair, and honestly, they work – give them a go!
---
If you enjoyed this page and would like to read some of our other blogs, then have a look at these other pages too!