Having an affordable alternative to do your manicure at home or while providing services at a salon can be a blessing. For this purpose, nothing can replace a quality nail dryer lamp. These devices are designed to cure your nail polishes without air drying at a particular wavelength using UV rays or LED light at a decent power. However, there are a variety of options across the market based on application, purpose, usage, and budget range. In order to understand all this, you should look for some essential and basic factors of these nail dryers.
Amazon's Choice
Editor's Pick
Best UV Lamp
Good Choice
PrettyDiva 86W Nail Lamp - UV LED Nail Lamp Gel Light Nail Dryer for Gel Nail Polish, Holographic Nail Lamp with 4 Timer Setting Auto Sensor LCD Screen for Fingernails & Toenails - Silver
Beetles LED Nail Lamp, Anti Aging Nail Light Curing Gel Nail Polish Gel Set/Base Gel/Top Coat/Poly Nail Gel Extension for Professional Nail Art Design Salon DIY at home
OVLUX UV LED Nail Lamp 180W, Professional Nail Dryer Machine, Best Gel UV LED Nail Lamp for Fingernail & Toenail Gel Based Polishes – Nail Curing Light with 57 pcs LEDs, 4 Timer Settings
Gelish 18G Professional 36W Salon Grade Manicure and Pedicure LED Nail Polish Curing Gel Lamp with 3 Timer Settings and Eyeshield, Silver
Amazon's Choice
PrettyDiva 86W Nail Lamp - UV LED Nail Lamp Gel Light Nail Dryer for Gel Nail Polish, Holographic Nail Lamp with 4 Timer Setting Auto Sensor LCD Screen for Fingernails & Toenails - Silver
Editor's Pick
Beetles LED Nail Lamp, Anti Aging Nail Light Curing Gel Nail Polish Gel Set/Base Gel/Top Coat/Poly Nail Gel Extension for Professional Nail Art Design Salon DIY at home
Best UV Lamp
OVLUX UV LED Nail Lamp 180W, Professional Nail Dryer Machine, Best Gel UV LED Nail Lamp for Fingernail & Toenail Gel Based Polishes – Nail Curing Light with 57 pcs LEDs, 4 Timer Settings
Good Choice
Gelish 18G Professional 36W Salon Grade Manicure and Pedicure LED Nail Polish Curing Gel Lamp with 3 Timer Settings and Eyeshield, Silver
Therefore, this article explores buying features of the best nail dryers and lamps in regards to the purpose, time settings, power, and usage along with few recommendations.
Nail Dryers and Lamps Top Picks
1. Gelish Harmony 18G Professional Lamp Dryer – UV Nail Lamp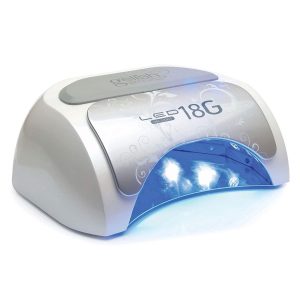 First and foremost, if you are looking for something that can help you in achieving a salon-like look and professionally done application, I suggest you go for this Gelish nail dryer. I am particularly a fan of its fast speed, performance efficiency, and smooth finish. Additionally, it is known for its common usage in salons and at home.
Likewise, talking about the efficiency, it cures the nails in as little as thirty seconds, making it one of the fastest. It also uses the strict LED light on low voltage (34 watts) that adds value to the product. Although it is designed specifically for salons, I also used it for pedicure and manicures at home and the results were absolutely amazing.
In the end, it comes with an LED screen and three timer options that allow me to set the light according to my requirements. The design also includes a padded handrest that supports customers. I also really liked the acetone-resistant lamp and a cordless version of this model that adds to the convenience, considering its usage at salons.
Pros
Offers power efficiency
Comes with a cordless model
Offers great convenience
Includes eye shield
Ideal for suitable light exposure
Cons
Expensive than usual
Not the best for home users
In essence, this Gelish lamp dryer is one of the best options across the market if you are specifically searching for a salon-graded design. I liked its well-put design and the cordless model that offers you a great deal of portability and convenience. Additionally, the power efficiency, limited light exposure, and fast operations make it a yes for me.
2. Lumcrissy Rechargeable LED UV Drying Lamp – Best LED Nail Lamp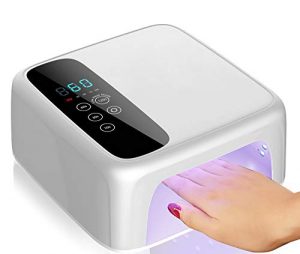 If you are new to this business and demand something that can assist you with convenience and functionality, this Lumcrissy is a great choice for you. It is known for its cordless design, and the reverse LED features that ensure great power efficiency with desired results. I really was impressed by its hassle-free and well-put design.
Furthermore, as it comes without any power cord, it usually takes two hours to charge and can help you with 12 hours of constant work without any inconvenience. Also, if you are a home user and want to try it for manicures, it would take upto 100 or 120 seconds for each hand. Therefore, considering the overall usage, having to do 180 manicures in one charge is not bad at all.
Last but not least, one of my favorite features in this model is the reverse LED display feature. Hence, it has helped me effectively while doing my own hands as well as others. I also highly regard the hand sensor that automatically shuts it down when done making it power efficient. You can also choose your desired setting from four pre-timers.
Pros
Offers convenient operations
Ideal for newcomers and professionals
Offers great portability
Includes a variety of settings
It is a cost-effective option
Cons
Can feel a little heavy
Takes two hours to charge
Wrapping up, this Lumcrissy product is one of the best nail dryers and lamps for newcomers with ideal time settings, convenient operations, and a cordless design. I appreciate the overall positioning of this design, specifically the reverse display feature and four different timers. I also liked its ability to serve for quite some time with absolute efficiency.
3. OVLUX Professional UV Nail Dryer 72W – UV Lamp For Nails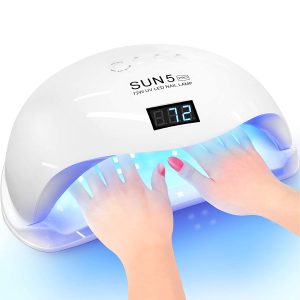 Here comes another quality professional nail dryer and lamp from Ovlux, best known for its name in the market for its elite and high-end products. I really liked the fact that it can be used for both the salons and home users with absolute results. I also find it unconventionally functional with extra space to accommodate both hands.
Likewise, it uses a professionally graded smart LED light to dry out your special nail polish that works perfectly well for hard gels and builders. I really like the hand sensor that automatically shuts down, contributing further to the trouble-free operations. Also, with the digital display, I was able to do the job with a variety of heating modes.
Lastly, while having the need to use this for unlimited hours continuously, I felt facilitated by its energy-saving mode that only uses 72W energy that can last up to 50,000 hours. Thereby, I didn't feel the need to change the bulbs repeatedly. Overall, it is a great product for power efficiency and a speedy process.
Pros
Includes smart IR sensors
Offers energy-saving mode
Ideal for removing builders/ hard gels
Can accommodate both hands
It comes with a built-in display
Cons
Expensive than usual
Limited heat settings
Finally, this Ovlux professional nail dryer is one of my favorites to be used in salons for a quick and efficient process. I feel perfectly at ease with the digital display and the smart IR sensors. Apart from this, its non-stop working with power efficiency and energy-saving mode makes it stand among others.
4. Kempa UV LED Nail Lamp Mini Dryer – Nail UV Light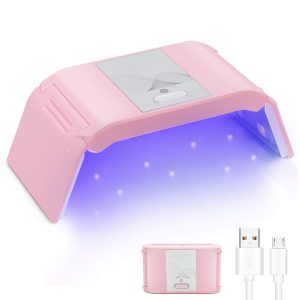 To start with, this Kempa is the go-to product that helps you perfectly when in a hurry. The highlights of this model are its compact size, quick operations, and energy efficiency. I really like this product for home users and its optical wavelength prevents any physical damage, making it a safe option.
Talking about efficiency, it offers you non-stop 50,00 hours of working with absolute ease. You will also be provided with a decent heat setting. I also really appreciate its compact size with thin and foldable legs that can be carried easily. It further includes a case that helps you in your trips ideally.
Lastly, it comes with a one-button function that makes it super convenient and trouble-free for home users who don't require any advanced settings. I also found the two different time settings helpful for a quick operation. However, in this case, you will have to compromise on power as it is only able to capacitate 12 LED bulbs.
Pros
Ideal for traveling
Absolutely convenient to use
It is a cost-effective option
Recommended for home users
Includes two timer settings
Cons
Not for serious business
Compromised power
In the end, this Kempa UV nail lamp dryer is a great choice for anyone who likes to carry a portable dryer that can help while you are on the go. This is a decent product for an affordable price range with two different time settings and non-stop working. I really like this product for convenient home manicures.
5. Beetles UV LED Nail Lamp – LED Nail Curing Lamps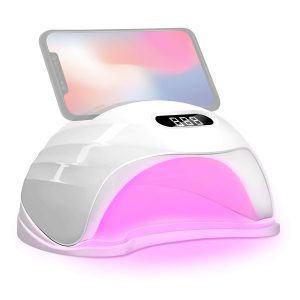 First of all, this Beetles UV dryer is a smart option with the fast operations and the decent efficiency you need. One of the highlights for me is its smartphone holder slot that helps you in keeping yourself busy while your nails are drying. Furthermore, the design is known for its adjustable power feature and compact size.
Secondly, it can be used ideally for hard gels, builders, and gilders with its advanced LED heat settings. Overall, it serves you non-stop for 50,000 hours without any inconvenience that also adds up to the value of this product. I also used it for base coats and the results were quite satisfactory.
In the end, it comes with three different timer settings that you can adjust based on your convenience and requirements. I also really like the power adjustment feature that helps you a lot with the customization. Finally, it is faster than any counterparts and is able to do one hand in 45 seconds, which is always a yes for me.
Pros
Offers fast operations
Includes power-adjustment feature
Works well with base coats
Includes a variety of time settings
Ideal for home users and salons
In essence, this compact size Beetle nail dryer is one of my favorites for home manicures without any hassle and absolute efficiency. I really like its power adjustment features that have helped me throughout in saving energy and cutting extra costs. Also, its four different time settings and fast operations add value to the product.
6. PrettyDiva UV LED Nail Lamp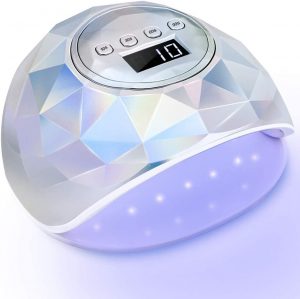 To begin with, this Pretty Diva nail lamp is another product at the top of my list with a strict LED light and a well-organized design to work with. I highly regard this product because of its automatic sensors and the variety of time settings that aid you with ease and convenience. Additionally, it works pretty well with every nail paint which makes it an absolute best.
Similarly, my first impression of this product was of pure delight because of its holographic, diamond-shaped design. Also, it comes with four different time settings that help you with a better and preferred treatment. I was further able to control the timing ideally with the digital LED panel.
Last but not least, the design includes a fair deal of user-friendly features, one of which is the hand sensor that is responsible for shutting the device when the work is done. Also, the overall drying process with this model was painless, easy, and done at a low heat setting, making it my favorite. Finally, its fast operations add value to the product.
Pros
Offers a quick-drying process
Includes a smart hand sensor
It comes with various time settings
Includes a holographic design
Works well with different paints
Cons
Expensive than usual
Not recommended for salons
In conclusion, this holographic model from Pretty Diva is one of the best nail dryers and lamps with a fast application, efficient drying process, and user-friendly operations. I am a fan of its digital display and the time settings that helped me throughout. Additionally, its holographic design adds aesthetic value to it.
7. LKE Gel UV LED Nail Lamp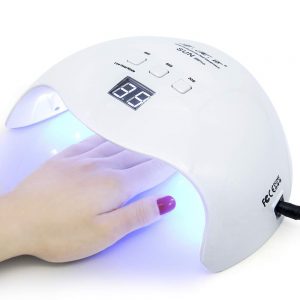 Here comes another nail dryer and lamp, known for its ability to prevent damage and user-friendly operations, not to mention the functionality. Like the Pretty Diva design, this LKE nail lamp comes with a unique curved shape with a strict LED light that helps you get desired benefits. I also liked it for convenient operations.
Likewise, it comes with 40 Watt power and 21 LED lamps that work well with different paints including the builders and base coats ideally. Additionally, it comes with three different timers that you can set according to your own preference. I have been using it for manicures at home and haven't noticed any discoloration at all.
Consequently, despite having a design for home users, I have found it absolutely efficient as it gives a salon-like finish. I also felt facilitated with the automatic sensor that provides great energy and power efficiency. Lastly, it is easy to clean and comes lightweight which makes it a great deal for such a price range.
Pros
Offers great portability
Offers convenient application
Includes an automatic sensor
It is a cost-effective option
Offers power efficiency
Cons
Not recommended for salons
Not the best in terms of speed
Finally, this LKE nail dryer and lamp is a great choice for anyone looking for efficiency and convenience. I really liked this product because of its user-friendly operations, and its ability to work with different coatings. It also minimizes the damage and prevents discoloration which makes it stand among others.
What to Look for in the Best Nail Dryers and Lamps; Buying Guide
Buying the best nail dryer and lamp involves thorough research about the device and its application. These lamps come in different shapes and are specifically designed to dry out the nail polish using the 'curing' method. Hence, if you are looking for one, here are some things you should consider before making a buying decision;
Which Nail Lamps are Best: UV or LED?
The first and foremost requirement of buying the best nail dryer and lamps is having sound knowledge of the product and your needs. Hence, primarily, these products come in two different shapes being UV rays and LED lights. However, in contemporary times, you are probably going to find LED lamps as they are the most commonly used and regarded among users.
Many people like these LED lamps because they come in small packages, do the job effectively, and are cost-effective. Additionally, my own preferred choice is an LED product as it is more efficient and doesn't demand replacement. These are also famous among users because of their power efficiency and energy-saving modes where they try to utilize the bare minimum voltage, yet with strict LED light.
They don't take much time in drying applications and pretty much do that within 30 to 40 seconds. You can also choose the preferred timing with the help of the digital displays many contemporary models have. You are also getting the non-stop working of 50,000 hours with various automatic sensors that facilitate you ideally.
Usage
Another thing you should consider while buying a nail lamp for yourself is its usage. As there are some devices that are designed for special purposes. If you are looking for a product to use in a salon, you should look for LED lamps with a variety of time settings and even heat distribution that can help you with absolute efficiency. Here, you can also look for something that comes with digital displays and has energy-saving modes that can facilitate you in the best manner. Other than that, for home users, I would recommend looking for a product that prevents damage to a certain extent and is reasonably priced for better application. Apart from that, make sure that the product suits your needs and is able to help you in an ideal manner.
Safety of Nail Lamps
While buying nail dryers or lamps, the foremost concern of many users lies in the safety of these devices as exposing your skin to LED light can be a risk not anyone would like. Hence, it is important to consider a product that will have safety clarity and will be able to give you peace of mind. Also, if you are on some medications or have serious health conditions, I would recommend you not to go for these products (as not advised by FDA). Yet, if you are adamant to experiment or use these devices, I suggest you go for safety UV protection gloves that only expose the nail preventing skin damage or discoloration. Apart from this, you can use these products easily as long as they have some safety clarification to provide.
Do They Work with Regular Polish?
The answer to this question is no. Nail dryers are specifically designed for special acrylic polishes that don't apply to regular ones. As regular polishes dry out with air, UV rays or LED Light won't have any results on these formulas. If you are looking for something effective that can dry out your regular nail color, you can go for a variety of products such as sprays and fans.
Application
The nail dryer and lamps are designed to dry out the policies other than air drying. It uses a technique of turning the liquid nail paint to solid, commonly known as curing. This method uses UV or LED light to generate a chemical reaction that in turn, makes your polish last long and durable. It uses specific wavelengths of the UV rays and helps you in transforming the polish into plastic.
Finally, based on all these basic and essential factors, you can wisely choose the one for you.
FAQs
What is the best nail dryer and lamp?
Gelish is one of the best nail dryers and lamps with a smooth and convenient application, digital display, and absolute efficiency. It uses strict LED light to cure the polish with a reasonable voltage that contributes to effective application and power efficiency. Apart from this, it can be used at salons and at home for desired results.
Are LED lamps better than UV dryers?
Both types of lamps are designed to serve different purposes. However, in contemporary times, you would notice many people appreciating LED lamps more because of their small size, effective application, and affordable price. Also, these devices offer you quick operations and include various settings alongside sensors that help you throughout.
What is the best salon nail dryer and lamp?
Ovlux is an ideal choice if you are searching for something to be used at a salon. For this particular purpose, this model includes four different time settings and a strict optimum UV light to serve you effectively. Coupled with this, it comes with IR sensors and an energy-saving mode that makes it valuable among others.
Final Thoughts
Finally, if you are in a constant search for equipment that can help you in an affordable manicure at home or in salons, these nail dryers and lamps are a great choice to go for. These devices are specifically designed for curing your nail polish for a quick and easy process. However, having many options can confuse the user as to what to go for. Here, this buying guide and sound knowledge about these products can help you in the long run. Therefore, based on their power efficiency, application, time settings, and usage; here are some recommendations
Kempa UV LED Nail Lamp Mini Dryer is one of the best with a convenient application, automatic sensors, and a compact size.
Gelish Harmony 18G Professional Lamp Dryer is famous among users for various time settings, even heat distribution, and fast operations.
Beetles UV LED Nail Lamp is known for its unique design, convenient application, and digital display.
Finally, have these best nail dryers and lamps and make your life easier.
If these weren't enough, check out these nail dryers and lamps from Amazon also:
MelodySusie Portable Kids Nail Dryer, Mini Nail Fan Quick Dry for Regular Nail Polish, Safe for Hands, Skin, Children's Gift, Great Gift for Girls.
♥Safe for Children 5 and up: Operated by Battery, no need with AC power. It is very safe for children. No UV/LED light, no harm to skin, eyes, hands, and feet. No pain, no heat, no black hands when drying.
♥Easy to Use: Comes with a press switch and a specially-designed finger plate, you just need to gentle press by your hand/foot for the fan to stay turned on. Operate with 2 AA batteries or 3V plug (both are not included). An opening space (4.5''x1.5'') that you can dry 4 fingernails or 5 toenails at once.
♥Compact & Portable: This mini size (5''x5''x3'') nail lamp is very portable for nail salon, party, home and travel use. Weighs only 0.6lbs. It is an ideal partner with your regular nail polish, nail lacquers, and your kid's nail polish.
♥Perfect Gift for Kid: It has cute with handy size. This mini nail fan is the Best birthday/holiday gift for your daughter and granddaughter who would like to learn nail art. We offer a 6-month warranty. If you need to return or replace, please contact us freely.
♥Quick Dry: This mini nail fan is designed for quick drying regular nail polishes, nail lacquers. It shortens your drying time by 50% than natural air. Please kindly note that it is not compatible with gel nail polish.
Makartt Nail Dryer, 400W Air Nail Fan Dryer with Automatic Sensor Nail Polish Dryer for Regular Polish Nail Blow Dryer Warm and Cool Wind Nail Dryer Fan for Manicure Pedicure Salon Home Use
Salon Quality & User Friendly Design - 【ONLY for countries with US plug 110V-120V/60HZ, NOT for those with plug 220V -240V. 】 Makartt professional nail dryer for regular polish is with spacious space which great able to hold both hands and feet .
Optional Warm & Cool Air - This drying quickly nail polish dryer has 2 air modes: warm and cool. Whether summer or winter, you can use this nail air dryer as your go-to manicure partner.
Intelligent Dual Sensor - The fan nail dryer controlled by automatic sensors. Sensor detection allows the nail polish dryer machine to turn on automatically when you put your hand inside the fan. Tips: Please keep your hands being covered above the sensor to let it work normally.
Safe to Use - Unlike nail lamps, this air nail dryer for regular polish will not black your hands or flash your eyes, it will not harm your skin, you will feel comfortable all the nail art process.
Best for Regular Nail Polish - This air nail dryer is for nail polish, dip powder, nail primer, nail bond primer, nail dehydrate, bond prep polish and so on, not for any gel polish or extension gel.
UV LED Nail Lamp Easkep - 86W Nail Dryer UV Light for Nails Eyes Protection UV Lamp for Gel Nails Gel Nail Polish Curing Dryer for Home and Salon
Spherical Design: The unique spherical design better retains light inside the machine, protects eyes from direct UV light, and maximizes drying speed. Comes with a 4ft power cord for easy portability to enjoy your nail salon anytime. It's also a great Halloween gift.
Moderate Power: After repeated tests, our Easkep 86W nail lamp current beads have the most suitable quantity and distribution. Compared with low-power such as a 48W nail lamp, the drying speed is twice as fast. But it won't overheat and hurt your fingers like other high-power nail lamps.
Over-temperature Protection: The timers are pre-set from 10s to 99s, and the curing time can be freely switched and controlled. The 99s low heat design provides temperature protection for your hands, allowing you to experience a painless curing process.
Delicate and Lightweight: It will not take up much space on the table, which can free up more space to put your favorite color gel. Detachable base for easy cleaning and also to dry toenails.
Attention: Different types of gel may need different curing times due to differences in composition ratios. It is normal that the base coat remains sticky after using the led nail lamp, which will help the color gel stay on your nails longer. The nail lamp is not suitable for regular nail polish. If you have any problems, Do not hesitate to contact us and we will always provide 24 hours online service.
Winjoy Gel UV LED Nail Lamp, 168W UV LED Nail Dryer for Gel Polish with 4 Timer Settings, Auto Sensor and LCD Touch Screen, Professional Gel Polish Light Curing Lamp for Salon and Home Use
[High Power 42pcs Durable light Beads] Winjoy nail dryer lamp out-powers most of the LED nail lamps on the market. The narrow spectral band and high light intensity activates photo initiators in the gel and cures the nail incredibly fast. Making it a lot easier to cure for those prefer hard gels or apply multiple layers of thick polish gel. With 42pcs LED lamp beads full cover, Twice faster than other 80W gel lamp.
[Large LCD Touch Screen and 4 Timers] Large LCD display shows the usage time, the timers are pre-set from 30s to 120s for experienced nail stylists to quick-select corresponding curing time for specific Nail gel polish. Additional touch screen No physical button will prolong the product life.
[Smart Sensor and Temperature Protection] Due to the smart infrared sensor, winjoy nail lamp could be automatic sensing, hands in light on, hand out light off. Our LED nail lamp brings a new nail salon-like experience. Note: Strong external light may affect the infrared sensor. If the sensor light is not on, please try to use it in a weaker light.
[Wide Compatibility] Winjoy Portable Gel LED Nail Lamp has a great light bead distribution for flawless, even and fast curing of all five nails at a go.Fast curing with all your favorite nail gel brands from beginner to professional grades. You can use it for LED gels, hard gels, builder gels, artificial nail gels, sculpture gels, UV gels or even tough shellac nail gels. Confirm the exact curing time of each of the nail polishes, bases, top coating and gels on the product packaging.
[Durable] Winjoy gel nail lamp has an uninterrupted service life of 50,000 hours and can be used continuously for up to 5 years. Moreover, we have a professional customer service team that will support you along the way. Feel free to contact us if you have any question/issue regarding our nail dryer for gel polish or other concerns that are of your interest. Our customer service team is at your disposal to resolve any problems you face with the device.
GreenLife Nail Lamp, UV LED Nail Dryer Light 54W 18pcs Nail Lamp Beads Portable Professional Curing Lamp for Gel Nails Polish 3 Timers Nail Art Tools Auto Sensor USB Plug secador de lámpara de uñas
🌈 Save a lot of time: GreenLife 54w 18pcs beads UV led nail light, you can use this Nail Lamp to increase the drying speed of the gel nails. It takes only 30-60 seconds for cure most gel nails polish and make them smooth as mirrors.🌈 Magic Therapy: applies to nails such as UV gel, nail gel, nail engraving gel, rhinestone, CND shellac, LED nail glue. The nail UV glue can be dried in just 30 seconds, and it takes 60 seconds to dry the rhinestone jewelry.
🌈 Large LCD Screen & 3 timers settings: In multi-function, adjustable: The nail lamp with Large Screen display's solidification time and 3 timers settings to 30 seconds / 60 seconds / 99 seconds low heat mode with an automatic sensor to meet nail or nail treatment All requirements. Auto-sensing UV LED nail lamp ensure a safe and comfortable experience.
🌈 No Hurt Eyes, No Black Hand:This LED nail lamp generate daylight non-ultraviolet white light safe for eyes. Say goodbye to outdated single UV lamps causing troubles with blackened hands and no harm for our eyes. 🌈 54w 18pcs led beads, dual light source to cure all nail gels without dead zone! 54w 18 pieces long-lasting 50000hrs lifetime LED beads are evenly distributed.
🌈 Wide & Big Space Design: You can place the nail lamp on your hands while you work. The bottom can be easily applied to the foot. With the Large LCD screens in light & USB plug. 🌈 Portable: This is Small nail lamp, not mini nail lamp, it is compact, ergonomic, and lightweight. It's the perfect nail lamp for school, office, home use, and travel. This nail lamp makes a perfect gift for friends and family.
❤️❤️❤️❤️❤️ Guarantee: All the customers can refund the nail curing lamp with no conditions within 180 days, nail polish dryer also provides 12-month warranty for quality problems and life-long maintenance services.Make sure your satisfaction. ⚠️⚠️⚠️Reminder for nail art beginners: After curing, just remember -- A: to use alcohol with a cotton pad on your nails to remove the surface sticky; or B: to apply "no wipe top" then bake 30 seconds again.
120W Portable Nail Dryers UV Light for Nails Professional, Fast Curing Nail Dryer for Gel and Regular Polish , Portable Nail Lamp Large Space Gel Polish Home Salon
【Fan & 51 LEDS & 120W UV Nail Light】 UV LED gel nail lamp adopts light photosynthesis solidification of UV light and nail polish, 120W high power and evenly distributed 51 LED lights can greatly shorten the nail polish curing time and save time.Our nail uv light equipped with fan to provides cool temperature for your hands, bring a new nail salon-like experience
【Fan With Controllable Switch】 Our LED Nail Lamp comes with a separate fan switch,you can start or end it at any time. In winter, you can turn it off to warm your hands. In summer, you can turn it on to lower the temperature and protect your hands
【3 Timmer & Smart Sensor】The gel lamp provides 3timer setting: 30S / 60S / 99S low heat, Equipped with a auto smart sensor, our professional gel uv led nail lamp automatically turns on and off when you put in/ take out your hands , start your manicure intelligence era
【Curing All Gel Nail Polishes】Professional nail salon gel polish UV light can be used for drying all UV gel nail polish and led gel polish, let you get a professional manicure service at home
【Detachable Design & Large space】Our gel nail polish curing lamp adopts detachable bottom design, easy to seperate and clean. The gel nail uv light has a large space that can accommodate both hands or feet at the same time, reducing the nail time by half.
Goyaesque 168W UV Led Nail Lamp Faster Gel Nail Dryer LED Nail Light Professional Gel Polish UV Curing Lamp with 4 Timmer Setting Protable Handle Large Space LCD Screen Automatic Sensor
1.【UV LED NAIL LAMP168W】The Power is stronger. Unlike most products on the market, we upgraded the original adapter from 2A to 3A. Its function is not only to make the current flowing through the lamp body more stable and stronger, and to extend the life of the lamp beads. More importantly, the drying speed is increased by more than 85%. 36pcs UV + LED dual lights, deal with most kinds of nail polish and gel, UV gel, UV top coat ,UV builder gel, led nail gel etc.
2.【 Added a Rose golden metal frame 】GOYAESQUE UV nail dryer added a Rose golden metal frame to the LCD screen and smart sensor counter basis of the old lamp. This design is not only to be more high-end, but more importantly, the good airtightness Improved efficiency of UV light. It can curing 20% faster than products without metal frame.The 36 lights are evenly distributed and the irradiation range is larger. There is no skin pain NO Black Hands.
3.【Four metal buttons, pearl white shell】After more than 10,000 pressing tests before leaving the factory, the quality is higher than most plastic buttons on the market. 4 timer settings (10s 30s 60s 99s) will easily control the curing time, and the time will be displayed on the large LCD screen. If you do not choose any time mode, the free mode will start Hands in light up, Hands out light off. The space entrance is increased from 20cm to 23.5cm, and you can treat both hands at the same time.
4.【Portable handle and detachable Base】Carry it with you to anywhere. Pearl paint surface, high-grade texture is not easy to scratch, the bottom plate is detachable and easier to keep clean. The curved design increases the internal space and can easily heal hands or feet. There are 12 lamp beads on the top and 24 lamp beads around evenly divided, which can cure the nail polish 360 degrees without dead angle.
5.【Service: Quality Guarantee】Service and Quality is GOYAESQUE brand's mission and glory! We are always here, 24 hours stand by for you! We promise replacement or refund for defective items, any problem please feel free to contact us!
Sale
Kepma UV LED Nail Dryer Mini lamp Portable Curing Light for Gel Nail Polish,6w(White)
1.【Attention Please: The lamp works well with GEL nails but not for TRADITIONAL nail polish】 Dual light sources (wavelength 365nm+405nm), makes it works fastly with gel nail polish,gel glue,gel nail polish stickers and uv resin,but not for traditional nail polish. The traditional nail polish needs to be air dried rather than cured by nail lamp.
2.【Pocket Size Makes It Easy to Carry】 With small compact size, 0.11 lb light weight can be easy to put in your makeup bag, handbag even in a wallet.Warm Tips: The nail lamp is not rechargeable. When using the product, please connect the attached cable to a mobile powerbank or the other USB socket.
3.【Humanized Design】: Flexible Drying Options with 3 preset time control: 60s, 180s and "always on" , Enjoy professional quality nail polish at home.Press ON/OFF button once for curing 60 seconds, second press for 180 seconds.Press and Hold for 3-4 seconds, it is always on.
4.【Pretect Your Eyes adn Skin】 Comparing with other products, its light is closer to white light, has no harm to eyes and skin. Fashionable and durable 50000hrs lifetime, ideal for personal use and best gift for friends.
5.【Warranty】100% customer satisfaction is our pursuit, we can provide 12 months warranty.Warm Tips:Please notice the lamp size before placing an order . It is normal for gel nail polish to feel sticky after curing.DO NOT WIPE. It is recommended to apply as thin a coat as possible when applying gel nail polish. The curing time will be shorter.
TOUCHBeauty Mini Nail Polish Dryer with Air and 5 UV LED Lamp Designed for Teens/Beginners Suitable for Regular Gel Nail Polish Purple 1439
2IN1 Nail Dryer come with Air drying mode and UV light drying mode to dry nail polishes safety and beautifully
MINI SIZE DRYER is designed to Kids/Teens/Beginner: Just can drying 4 fingers per time, comes with press-button to turn on, and finger plate ensure precision drying nails
NO PAINLESS DRYING this mini dryer offers 100% safe Air or 380-385nm UV light drying mode to nails or toes although it can't fast drying in 30s
NO BLACK HANDS DRYING RESULT offer Air-drying aviod strong UV lamps causing troubles with blackened hands
Ideals for Christmas day gift. Powered by 3 AAA batteries (Batteries not included)